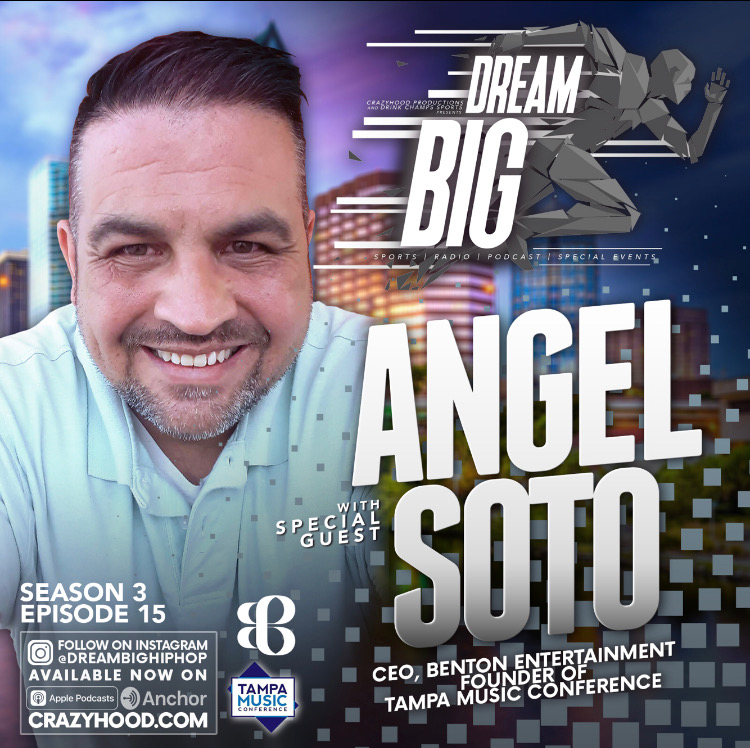 COVID-19 is among us! Quarantine is global and safety precautions is taking us home full time. Most of us have schedules which normally, we take advantage of family time BUT now family time is very special and we all are really enjoying it more than ever especially working from home!   
Which leads me to this episode,.. Angel Soto is my blood cousin but he is WAY more than that.  We recorded this conversation a few months ago and its so important now with everything going on to release this episode now for family and all to listen to. 
Angel is a pillar in the Tampa, Fl community, he is the founder of the legendary TAMPA MUSIC CONFERENCE, the Benton Record store and now BENTON ENTERTAINMENT!! His story begins in Kennedy, Colombia to Passaic, New Jersey to Tampa, Fl.  His entrepreneurial spirit began with a red book bag and continues with is knowledge and guidance from entertainment contracts, publishing and careers! 
I'm extremely proud to show you his #DreamBIGMoments throughout his journey and finally being able to share his hiphop roots grown from NJ and his loyalty, commitment and dedication to Tampa, Fl.  Tampa stand up!!!!!!!
This episode is dedicated to  MIGUEL SOTO! 
DreamBIG HipHop Podcast is about "athletes and entrepreneurs" and Episode 15 is a great addition to our catalog.
Email me any questions, shout outs or concerns to: drinkchampsports@gmail.com
For more DreamBIG HipHop episodes check out the official page here at CrazyHood.com — > DreamBIG HipHop.