"ANTHEMS & ICONS" w/ 80 Empire | Spotlight Feature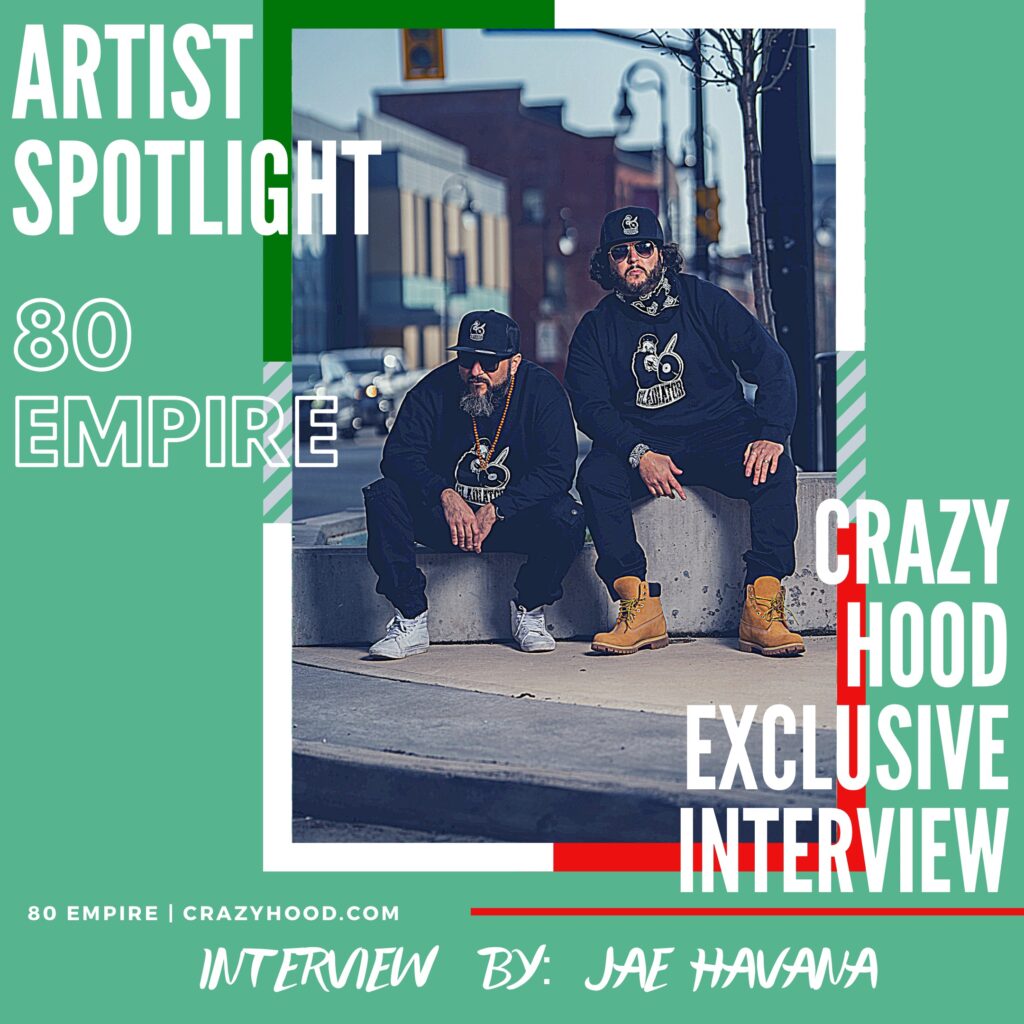 I recently had the pleasure of sitting down & talking with Multi Platinum Artists / Producers 80 Empire to talk about their journey, family, culture & their new project ANTHEMS & ICONS.
Born in Toronto, Canada; brothers Lucas and Adrian Rezza (80 Empire) grew up in a house full of music, with a strong connection to their Italian roots. Their parents, both Italian immigrants, were heavily influenced by music, so growing up they exposed 80 to such an amazing array of performers and musical genres. Growing up in a small suburb just 30 to 40 minutes from Downtown, 80 Empire lived close to a city that is rich in culture and diversity.
Their father (who they call "Jabu") would bring them to a place called "Monica's" located in the Eglinton Avenue West area of Toronto which had/has a big Caribbean population. There, Jabu would buy hair products and records. Any record you can imagine, Jabu made sure to buy it. Records from a wide span of genres such as reggae, calypso, funk, soul, and Hip Hop.
It was at "Monica's" that Jabu purchased 80 Empire's first hip-hop vinyl… Big Daddy Kane's "Raw".
"Our house was full of music, our dad would bring new music every Friday and the whole family would jam!" 80 Empire continues " It wasn't till we saw Beat Street that we fell in love with Hip Hop music. When we saw all the break dancing, graffiti, and rapping we were hooked! Blues Brothers is another influential movie for us. Two brothers doing soulful music. These two films are important pieces in our musical journey."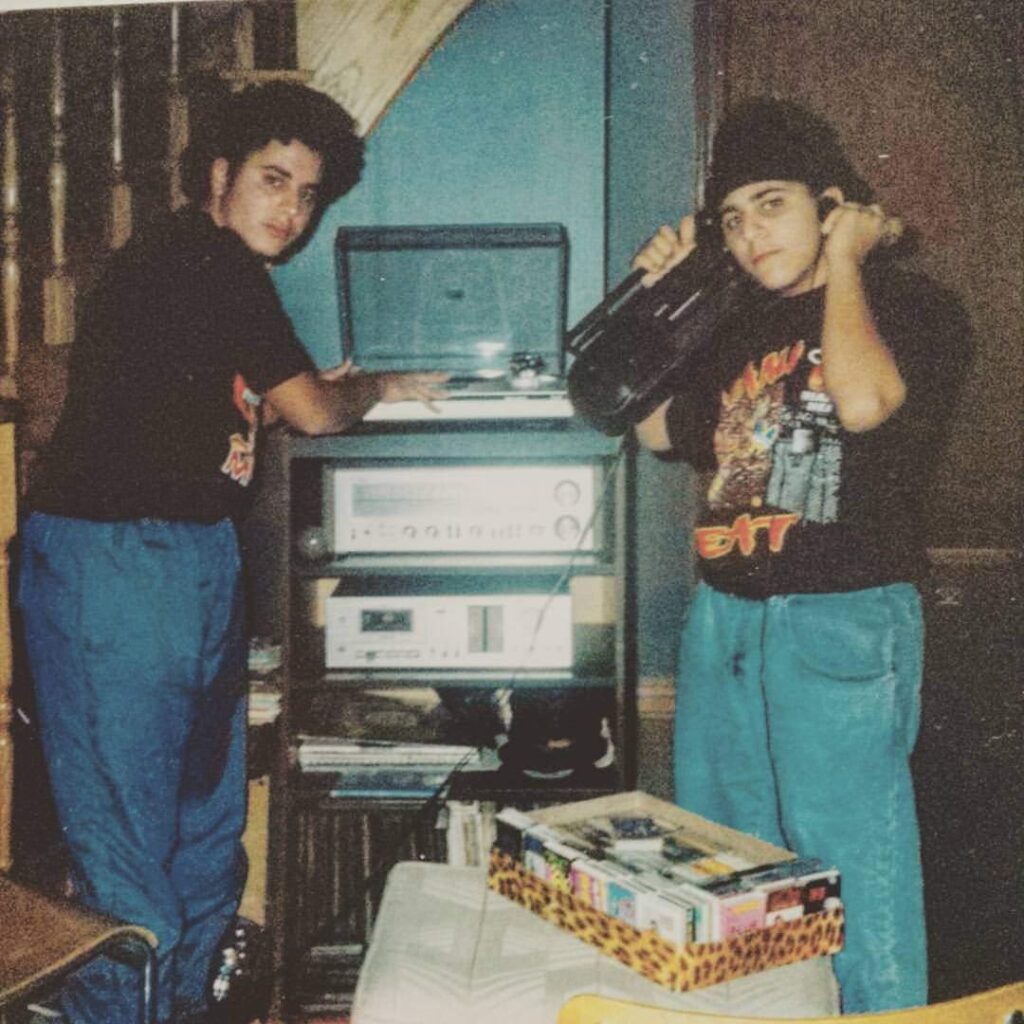 Being influenced by family, culture and hip hop, it was a natural progression for 80 Empire to start creating music themselves.
"We were exposed to so much music growing up that we gradually decided to start making our own music. In our teens we began performing with our cousin Justin. Every Saturday our Mom, who we affectionately call Gangsta P, would bring us to our cousins. We would practice for hours. We still consider our cousin part of 80 Empire and are extremely close with him to this day." 80 Empire continues; "We then went through different bands. We started as a band like the Roots. We were always in a way outcasts. We would be the only Hip Hop band at a battle of the band's competition and be the only Hip Hop band at a Hip Hop show. I think we've always been different and that difference is what has helped to carve our own unique sound which encompasses all of our musical influences and experiences."
Growing up, both Adrian and Lucas took piano lessons. According to Adrian, Lucas was a natural and ended up getting into the Jazz program at York University in Toronto. Soon after, Lucas turned to music software and production… The rest is history.
While Lucas was perfecting his production skills, Adrian was sharpening his pencil, writing lyrics and developing his rapping skills. Gradually he figured out his ability to sing and started to mix the two together.
"I think that is what makes us a strong team, Lucas does the physical production, where as I can sing an idea or bring a sample to the table and Lucas turns it into something tangible. These skills also give us the ability to jump from producers to artists." – Adrian Rezza (80 Empire)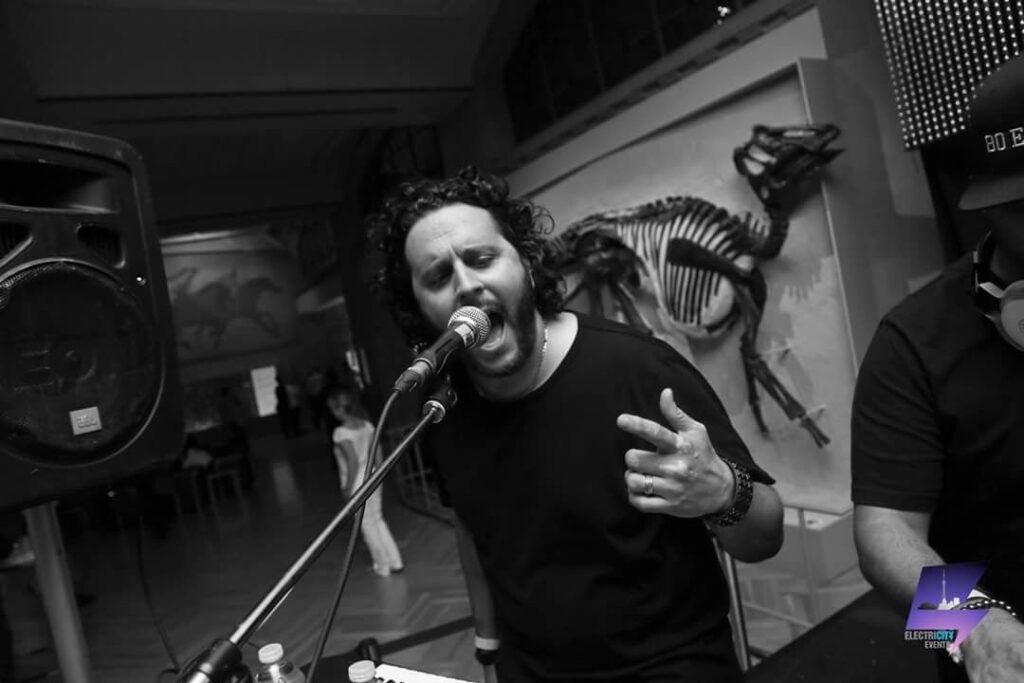 The name "80 Empire" also has an interesting origin. "It stands for a couple of things." Lucas continues; "We had the name for our record label first, Gladiator Records and wanted a name to compliment that. We were born in Canada, however we feel a strong connection to our Italian roots so we wanted that to be reflected in both names." Adrian continues; "80 has a double meaning – One, being that our love for music began in the 80s. The second being A.D. / 80 the letter "A" for "Analog" and the letter "D" for "Digital" which represents the both of us; Adrian being more old school (letter "A") and Lucas being the Digital King (letter "D").
"Empire is an ode to the Roman Empire. Our mother's side of the family is from that region and we still have family there so it's a bit of an homage to our heritage." – Lucas Rezza (80 Empire)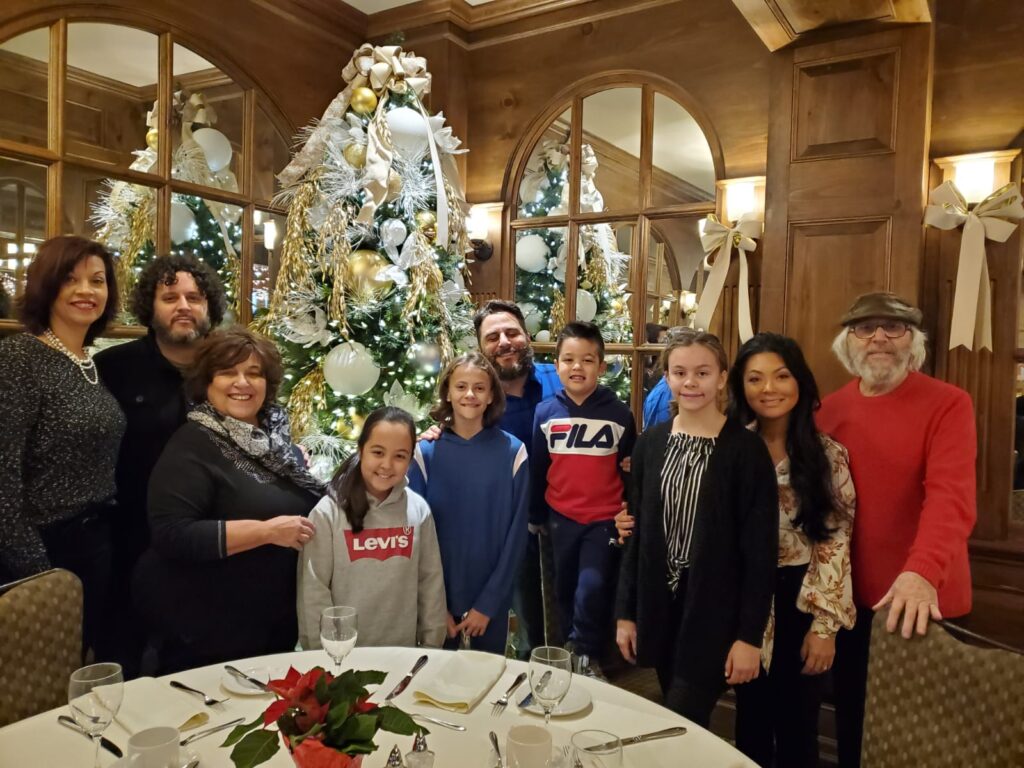 When you think about the root of 80's inspiration, the seed of that inspiration ultimately came from their famiglia. It was their parents who introduced them to a broad range of music and genres. Jabu and Gangsta P weren't afraid to let their two sons "explore" music.
"

I think of all the Soul music our parents exposed us to, James Brown was one of the heaviest. He was so militant and so damn funky…to us there was and there still won't be anything or anyone like the GodFather of Soul." 80 Empire continues; "When you hear

Pay The Cost To Be The Boss

, or

The Payback

…you can't go to school to be that funky and gangster."
As the duo started to develop themselves as artists & producers they were influenced by some of Hip-Hop's most iconic artists. From, Big Daddy Kane, Dr. Dre & Snoop to Kid 'n Play.
"Big Daddy Kane was cool without trying but also he was lyrical and could rap fast and then switch it up." 80 Empire continues; "With Kid 'n Play we liked the dancing aspect and the back and forth exchange of word play between the two."
But it was the whole West Coast scene that really captivated 80 Empire. Dr. Dre, NWA, Snoop, etc. While the coast gave listeners hardcore raps, the music was extremely melodic and it never lost its message & authenticity. This made a great impression on 80 Empire.
"Dr. Dre had a huge influence on Lucas in terms of production, you can definitely feel it in our drums." – Adrian Rezza (80 Empire)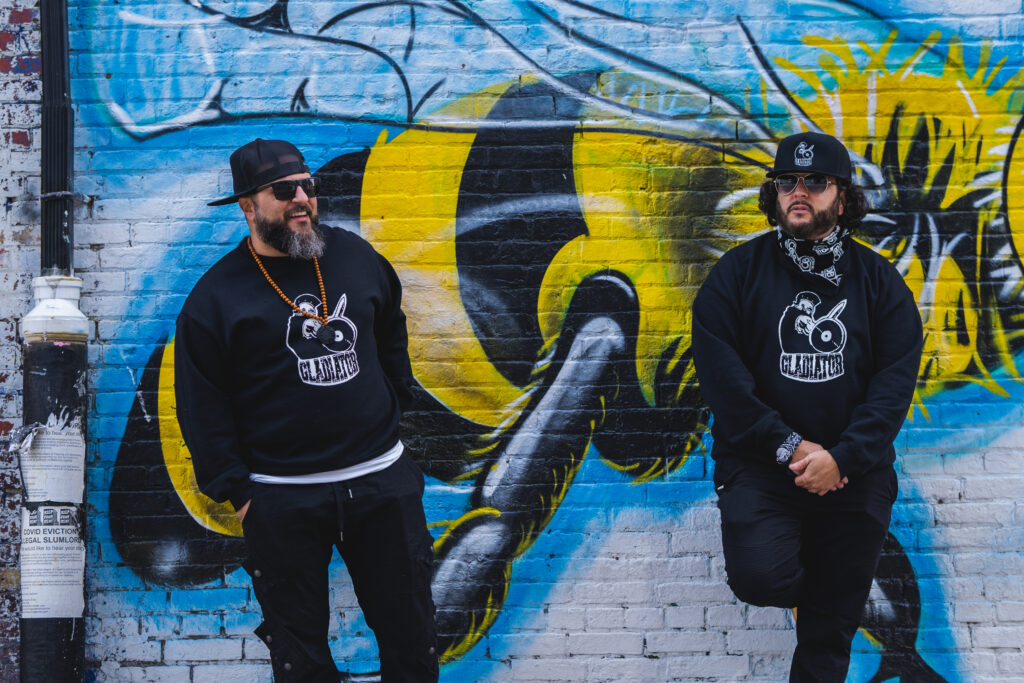 In addition to Dre, Quincey Jones & the Neptunes inspired 80 Empire as well.
"With Quincy Jones, the sheer versatility from Michael Jackson to Sinatra is incredible! And of course the Neptunes, the pimp style singing and Pharrell's falsetto were genius!" – 80 Empire
In regards to their creative process, every song of theirs has its own experience. Adrian says "some songs Luke has a complete beat, I come in and just freestyle it all and then we piece it together." Lucas continues; "Other times Adrian comes with an idea or melody and I put the instrumentation behind it. We are used to being on stage and improving and prepared for things to go wrong but in those experiences some of the best gigs have happened."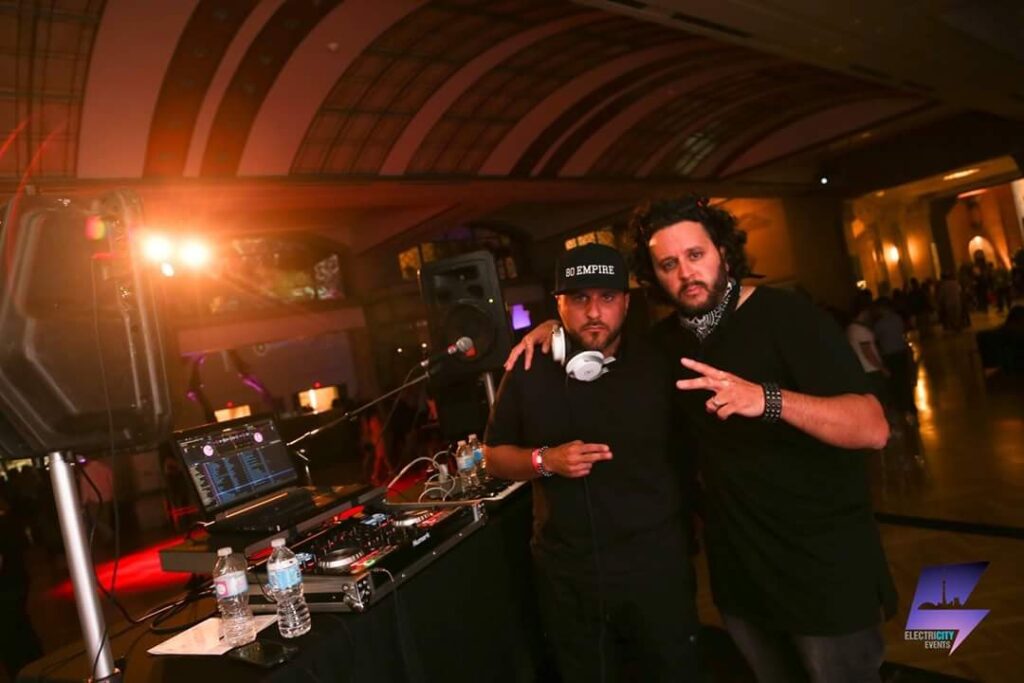 "We love bringing that live feel to our studio sessions. Blasting the music, dancing, vibing, freestyling… that's how you get the dopest product. Overthinking and over analyzing kills the vibe and the essence of all creativity." – 80 Empire
Looking back at their influences, you can definitely hear how Dr. Dre, Quincy Jones and Pharrell were huge inspirations to the duo. When describing their style of music & production, 80 Empire says; "Definitely Cinematic. Heavy drums, big and melodic choruses. We want people to feel like they're watching a movie when they listen to our music."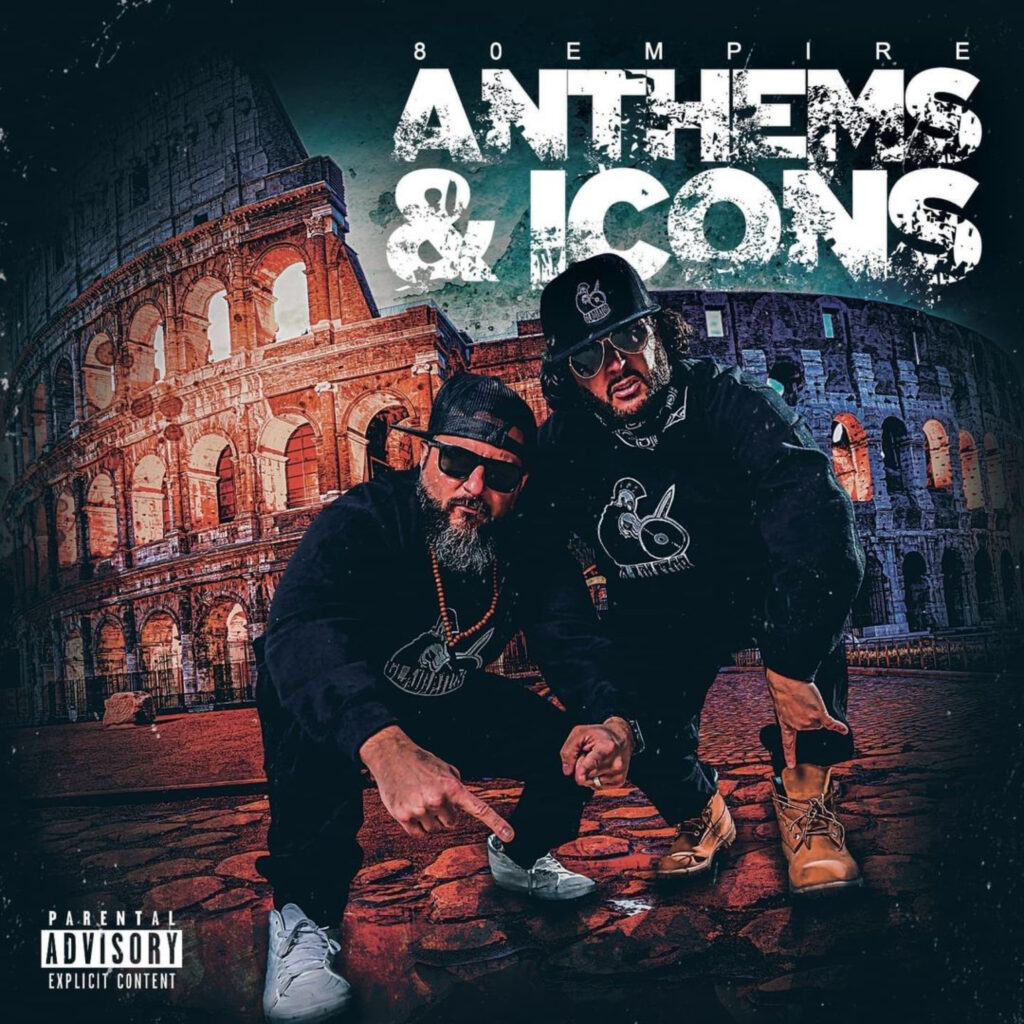 After hearing their new album "ANTHEMS & ICONS"… the music definitely made you feel as if you were part of their movie.
Their album ANTHEMS & ICONS is the second studio album from the group (check out their 1st album LEGACY here). The 17 track album stands true to its title, delivering anthems while working with some of the most iconic or soon to be icons in the music & entertainment industry.
"The album is a collection of Anthems with artists we feel are Iconic and have made a vast and impactful contribution to Hiphop and popular culture." – 80 Empire
The project is released through 80 Empire's Gladiator Records and the iconic Fat Beats record label. Not to mention, 80 Empire enlisted the services of the legendary and A&R Extraordinaire, the almighty M80 (who also helped secure 80's Fat Beats deal).
In regards to being signed to Fat Beats, 80 Empire says "Man, it really is a great feeling, they were the first to put out Jay Z's early stuff to Black Star…it really is an honor to be amongst all these iconic legends."
For an artist it's really hard to pick out a favorite song from their project. This was also the case with 80 Empire. But one song in particular will forever be special… "We love all the songs in different ways, but really love 'I Ain't Looking Back' because our Dad is singing on it." – 80 Empire
Their Father, the person who helped introduce 80 to an amazing array of musical genres… the legendary Jabu.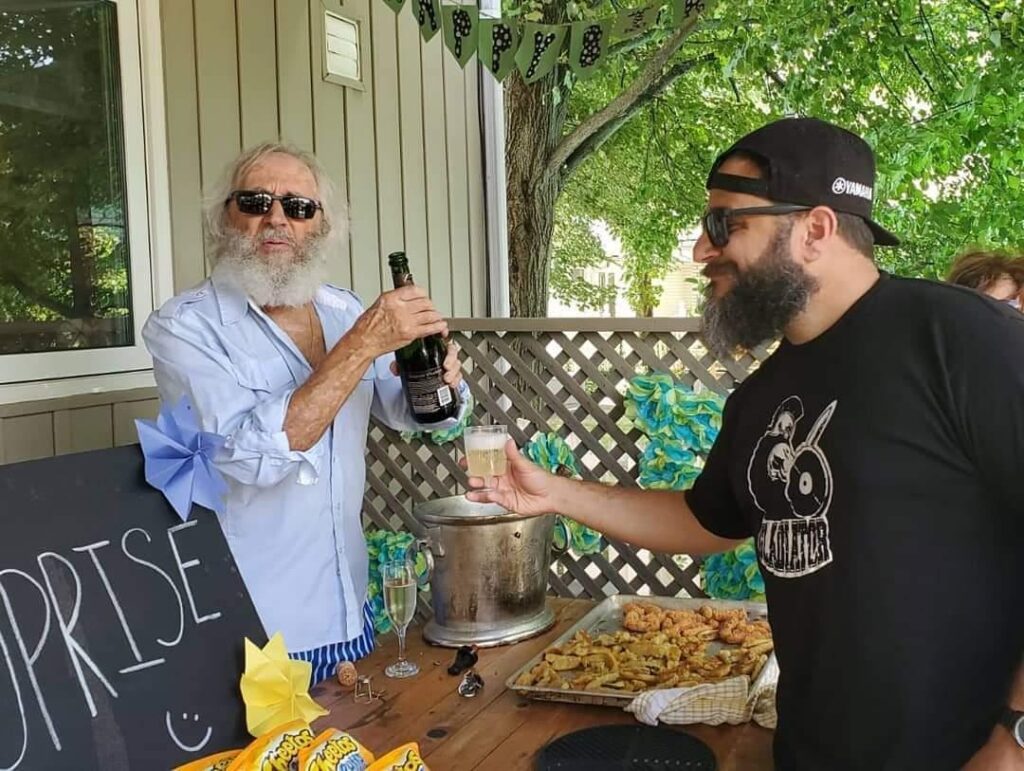 ANTHEMS & ICONS features Kurupt, Mc Eiht, DMC, Gorilla Nems, Grafh, Sizzla, KRS1 Laetitia Eido, Slaine, Actor – Raoul Max Trujillo, Theo Rossi, Yuk Mouth, WC aka Dub C, G Casino, Layzie Bone, JoMi, Kxng Crooked, Jon Connor, Swifty Mcvay, DJ Eclipse, DJ Spice, Tony Hooks, Kassiopia, and our Dad aka Papa J.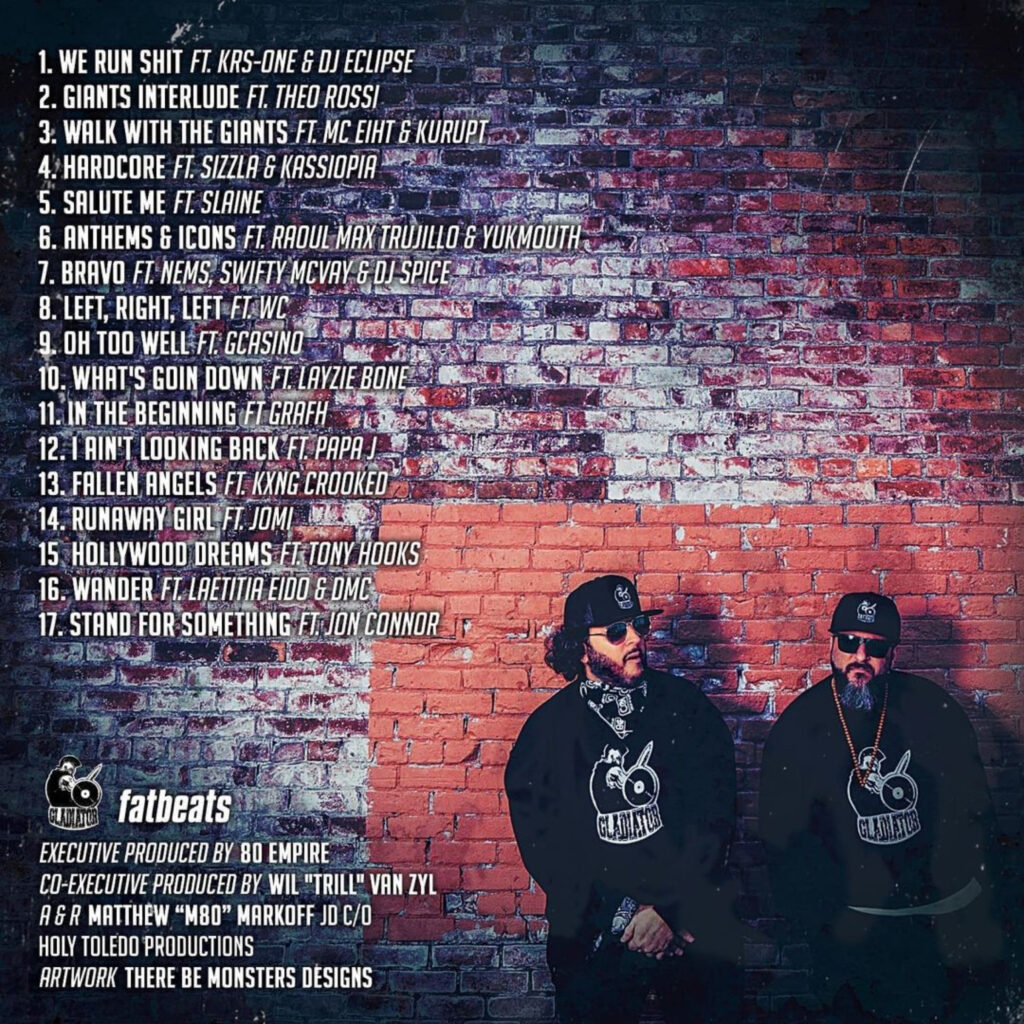 JoMi who was featured on the song "Runaway Girl" had nothing but great things to say about 80 Empire.
"Working with 80 Empire on "Runaway Girl" was such a flawless effort. I received the reference track; which only included the hook at that time, and it immediately spoke to me. That same night, I headed to the studio and the song essentially wrote itself. The hook was so well put together by Adrian, it's one of those hooks that have minimal complexity to them but the melody is so strong you can't help but to repeat that s***t. Additionally, the production around the vocals by Lucas was exactly what that record was supposed to be for the essence of the concept of the song itself. Melancholy, yet hopeful. All in all, working on this record was quick. The feeling was already established from the jump; all I had to do was interpret that energy." – JoMi
80 Empire delivered. ANTHEMS & ICONS holds true to its title as 80 brings together a musical masterpiece of ANTHEMS with a collection of ICONS featured on every song.
"We think back to our teens, being able to arrange the band so everyone was cohesive, break downs etc. Then with Lucas going to school for music and having a drum machine and Adrian dropping melodies and raps. We just evolved into what we are today." – 80 Empire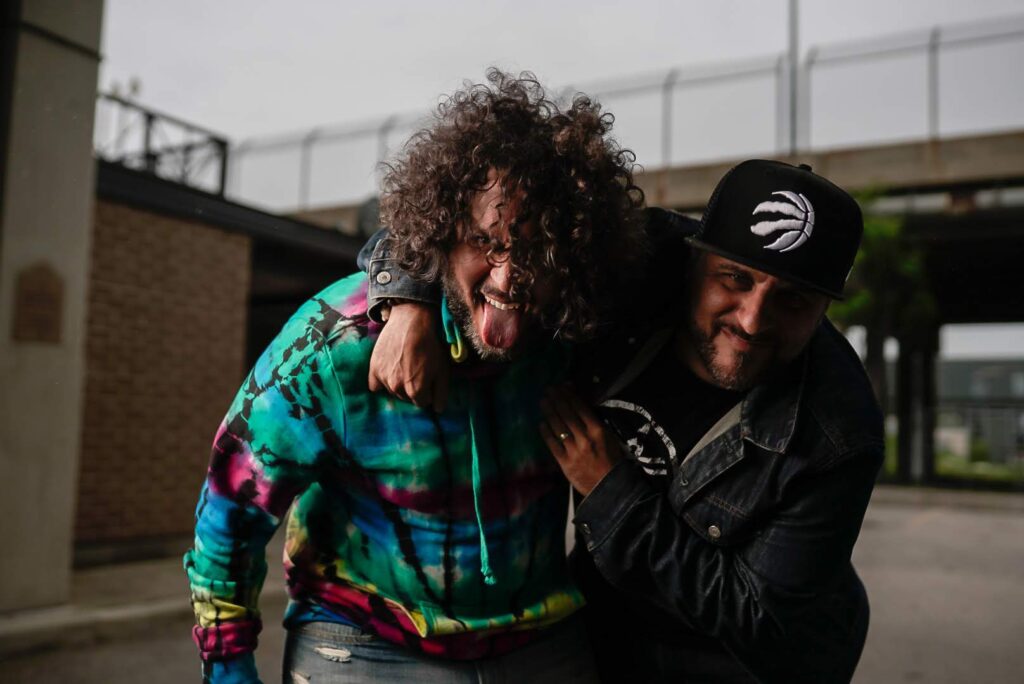 Listen to 80 Empire's ANTHEMS & ICONS below or your favorite digital platform.
Order ANTHEMS & ICONS on CD here.
Stay Connected: Instagram – @80Empire | Twitter – @_80Empire | Facebook: 80 Empire | GladiatorENT.com