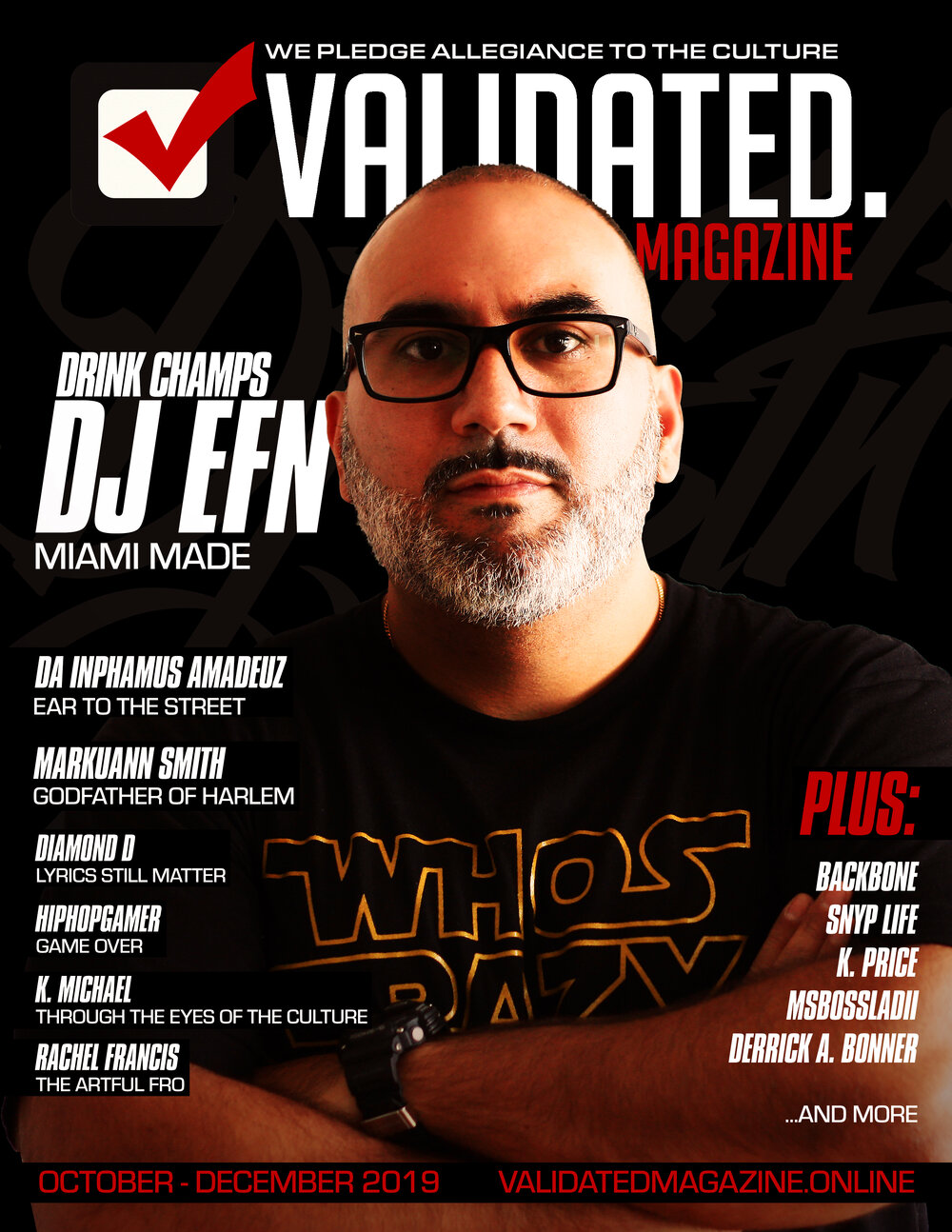 Validated Magazine recently sat down with DJ EFN for an exclusive interview.
INTERVIEW By: SHAMIKA SANDERS-SYKES | Original Interview available on Validated Magazines Website

DJ EFN IS AN AMERICAN RECORD LABEL EXECUTIVE AND DJ, BASED IN MIAMI, WHO SPECIALIZES IN HIP-HOP. SINCE THE EARLY 1990S, OPERATING MOST OFTEN UNDER THE BANNER OF CRAZY HOOD PRODUCTIONS, EFN HAS WORKED IN THE HIP-HOP INDUSTRY IN A VARIETY OF CAPACITIES, INCLUDING AS A MIXTAPE, ALBUM AND FILM PRODUCER, A&R CONSULTANT, ARTIST MANAGER, AND MUCH MORE. HE IS ALSO ONE HALF OF THE SMASH HIT REVOLT TV SERIES, DRINK CHAMPS. I SIT DOWN WITH THE MIAMI NATIVE AS WE HAVE SOME ROUSING CONVERSATION ABOUT THE SHOW, MORE ON THE CRAZY HOOD BRAND AND THE FANTASTIC WORLD OF DJING.
---
VALIDATED: WHEN DID YOU FALL IN LOVE WITH DEEJAYING AND DO YOU REMEMBER THE FIRST PIECE OF EQUIPMENT THAT YOU HAD?
DJ EFN: YEAH, DEFINITELY. I PROBABLY GOT INTO IT, I GUESS, I KNOW YOU SAID IT FELL IN LOVE WITH IT, WATCHING LIKE THE FIRST MUSIC VIDEOS THAT I WOULD SEE THAT WERE COMING OUT MAYBE LIKE IN THE LATE 80S, SEEING, RUN DMC, JAM MASTER JAY AND SEEN TERMINATOR X FOR PUBLIC ENEMY OR JAZZY JEFF OR DR. DRE, NWA AND SEEING ALL OF THOSE GUYS, YOU KNOW, JUST SEEING THE DJ, AND EVEN LL COOL J VIDEOS, HE HAD CUT CREATOR. SO SEEING THE DJ, I WAS JUST LIKE, I KIND OF HONED IN ON THE DJ KIND OF PAST THE RAPPER AND, AND REALLY WAS LIKE "MAN, I LIKE THAT PERSON'S ROLE IN THAT DYNAMIC" AND IT ATTRACTED ME AND IT'S SOMETHING THAT I WAS LIKE, I FELT LIKE YOU COULD JUST CONTROL THE VIBE. AND THEN WHEN I WOULD, YOU KNOW, AS A KID GOING TO LIKE THE SKATING RINKS OR, OR STUFF LIKE THAT. AND THEY WOULD BE THE DJS THERE, YOU KNOW, JUST, JUST THE WHOLE IDEA OF CONTROLLING THE MOOD AND THE VIBE WAS, I WAS VERY ATTRACTED TO ME AND THAT'S KINDA LIKE WHERE I FIRST FELL IN LOVE WITH IT, WITH WANTING TO BE A DJ, BUT I COULDN'T AFFORD IT, SO MY FIRST EQUIPMENT, ATTEMPTING TO BE A DJ, WAS HAND ME DOWN A DOUBLE TAPE DECKS AND I WOULD CREATE THINGS THAT WE CALLED BACK THEN PAUSE TAPES, WHERE YOU RECORD OFF OF THE RADIO WITH SONG OR RECORD OFF OF OTHER SINGLES OR WHATEVER AND KIND OF MAKE YOUR MIX, MIMICKING DEEJAYING TRICKS AND DJ STUFF. I WAS PROBABLY LIKE AS YOUNG AS MAYBE 13 OR 14. AND WHEN I GOT ABOUT 17 OR 18 IS WHEN I HAVE A LITTLE BIT OF MONEY TO BUY SOME TURNTABLES THAT I BOUGHT IN THE BACK OF THE SOURCE MAGAZINE. THEY HAD THESE ADS AND THEY HAD LIKE A DJ STARTER KIT THAT GOT YOU EVERYTHING YOU NEEDED TO TURNTABLES, THE MIXER, AND HEADPHONES. AND I BOUGHT THAT, BUT THEY WERE TERRIBLE TURNTABLES CAUSE THEY WERE BELT DRIVE AND IT WASN'T UNTIL A COUPLE OF YEARS AFTER THAT THAT I WAS ABLE TO SCRAPE ENOUGH MONEY TO GET TECHNICS TURNTABLES, WHICH IS, YOU KNOW, THE TOOL TO TRADE FOR A REAL DJ.
VALIDATED: YOU SAID THE BELT DRIVE. IT MUST BE GEMINIS.
DJ EFN: (LAUGHS) I KNOW I FEEL BAD. I FEEL LIKE I'M DISSING GEMINI WHEN I SAY THAT IT WAS GEMINIS, YOU KNOW, BUT I LOVE THOSE TURNTABLES. THEY WERE TERRIBLE LIKE TO LEARN OFF OF, BUT TO ME, THEY WERE EVERYTHING AT THE TIME, YOU KNOW?
VALIDATED: LISTEN YOU ARE NOT THE ONLY DJ WHO SAID THAT BECAUSE I HEAR THAT FROM A LOT OF DJS THAT IT'S HORRIBLE. SO, YOU HAVE A PRODUCTION COMPANY CALLED CRAZY HOOD. TELL US A LITTLE BIT MORE ABOUT THAT. I KNOW Y'ALL DABBLE IN A LOT OF THINGS.
DJ EFN: YEAH. SO EVEN BEFORE I HAD TURNTABLES, I STARTED THE COMPANY. I STARTED RIGHT OUT OF HIGH SCHOOL. YOU KNOW, EVERY KID IS WONDERING WHAT ARE THEY GOING TO DO? I WASN'T NECESSARILY GOING TO GO TO COLLEGE LIKE THAT, SO I DID GO TO COMMUNITY COLLEGE. I WAS LUCKY MY MOM WORKED AT THE LOCAL COMMUNITY COLLEGE HERE AT MIAMI DADE COMMUNITY COLLEGE, WHICH ALLOWED ME TO GO THERE DAMN NEAR FREE, AND I WAS A JERK BECAUSE I DIDN'T TAKE ADVANTAGE OF IT AND WHATEVER. I HAD TO GO BACK TO COLLEGE YEARS LATER TO, TO FINISH IT, TO MAKE MY MOM HAPPY CAUSE I DISAPPOINTED HER IN THAT DEPARTMENT. BUT THAT'S NEITHER HERE NOR THERE. (LAUGHS) BUT, I STARTED HERE RIGHT OUT OF HIGH SCHOOL. I WANTED TO DO SOMETHING, YOU KNOW, CREATE SOME KIND OF A COMPANY, A BRAND OR SOME ENTITY THAT WAS GONNA HELP PROMOTE THE LOCAL HIP HOP SCENE. MY CREW, WE WERE ALREADY LIKE, JUST COMPLETE FANS AND WE WERE SUPPORTIVE OF THE LOCAL SCENE AND WE WERE VERY ACTIVE AND BEING SUPPORTERS AND FANS OF IT. SO WE WERE JUST LIKE "LOOK, THERE'S NO ONE BETTER THAN US." WE DO SOMETHING WITHIN THE SCENE AND, AND, AND EVEN PROP IT UP EVEN MORE. SO THE FIRST THING WE DID, YOU KNOW…… I DIDN'T KNOW WHAT I WAS GONNA DO. I DIDN'T KNOW WHAT THE COMPANY WAS REALLY, WHAT OUR MISSION STATEMENT WAS. IT WAS JUST THAT WE LOVE TO HIP HOP AND WE WANTED TO HELP REPRESENT OUR LOCAL SCENE AND HELP CULTIVATE AT THE LOCAL SCENE AND THAT'S ALL I KNEW. SO THE FIRST THING THAT WE COULD DO THAT WE HAD THE ABILITY TO DO WITH THROW A PARTY CAUSE THERE WASN'T LIKE HIP HOP CLUBS IN MIAMI. THIS IS 93. IT WASN'T A LOT OF HIP HOP CLUBS IF ANY. THERE MIGHT BE LIKE A HIP HOP ROOM AND SOME FANCY CLUB IN SOUTH BEACH THAT THEY WOULDN'T EVEN LET HIP HOP HEADS INTO. THAT WAS LIKE THE ONLY THING THAT WAS MAYBE HAPPENING. BUT WE WOULD HAVE THESE WAREHOUSE PARTIES OR, OR THEY EVEN HAD RANCH PARTIES. THEY HAD JUST DIFFERENT HOUSE PARTIES OBVIOUSLY AND THAT'S WHERE MOST OF THE LOCAL HIP HOP KIDS WOULD GO TO LISTEN TO HIP HOP AND BE AT A HIP HOP EVENTS. SO WE DECIDED TO DO SOMETHING LIKE THAT AND THAT WAS THE FIRST THING WE EVER DID AND UNFORTUNATELY, IT GOT SHOT UP. SOME RIVAL CREWS SHOWED UP BECAUSE BACK THEN, THERE WAS SO LIMITED WHERE HIP HOP HEADS COULD GO, THAT EVERYBODY FROM THE CITY WHEN THEY FOUND OUT ABOUT A PARTY OR AN EVENT, THEY WOULD SHOW UP. SO WHEN EVERYBODY FROM AROUND THE CITY WOULD SHOW UP IN ONE PLACE, YOU KNOW, CHANCES ARE THERE'S GONNA BE SOME, SOME KIND OF FRICTION, WHETHER IT BE A NEIGHBORHOOD THING OR SOMETIMES GANGS WOULD BE AROUND AND UNFORTUNATELY, THE PARTY GOT SHOT UP. BUT IT KINDA WORKED IN OUR FAVOR IN THE WEIRD WAY THAT THINGS HAPPEN. THE NAME GOT INFAMOUS, FORTUNATELY THE PERSON THAT GOT SHOT WENT TO THE HOSPITAL AND DIDN'T DIE, SO, THE COPS DID COME THOUGH AND THEY WERE LIKE "IF WE EVER SEE THIS NAME AGAIN" AND WE HAD IT AS CHP, THEY WERE LIKE, "WE'RE GOING TO SHUT YOU DOWN." SO WE JUST LAID LOW FOR A LITTLE WHILE AND THEN THAT'S WHEN WE STARTED GETTING INTO THE OTHER THINGS WHERE I STARTED TO MANAGE GROUPS AND DEVELOP ARTISTS, PRODUCE DEMOS. AND THEN, YOU KNOW, GOT MY TURNTABLES AND STARTED WORKING ON MIXTAPES AND WASN'T LIKE ABOUT A YEAR OR TWO LATER WE STARTED TO DO MORE EVENTS AND STUFF.
VALIDATED: YEAH, BECAUSE YOU'VE BEEN AN ARTIST MANAGER AND A LABEL EXEC. YOU WERE ALSO A&R FOR LIKE A WHILE. THE QUESTION THAT I WANTED TO ASK YOU, IN A GENERAL SENSE, LIKE DO YOU FEEL THAT THE A&R ROLE HAS DIED INTO TODAY'S INDUSTRY?
DJ EFN: NO, I DON'T THINK SO. I THINK, WELL, I GUESS IT MAY HAVE DIED IN THE SENSE THAT MAYBE THEY A&R DOESN'T HAVE THE CONTROL OR THE INPUT THAT THEY HAD BEFORE, AND IT MIGHT SOMETIMES BE THE A&R'S FAULT BECAUSE A&RS HAVE HAD A BAD RAP. YOU KNOW, GOING BACK, LIKE SOMETIMES THE A&R WAS JUST A RECORD EXECUTIVE, HAD NO KNOWLEDGE OR EVEN LIKE CARED ABOUT HIP HOP LIKE THAT. THEY DID THINGS ACCORDING TO WHAT THEY THOUGHT WAS GONNA SELL RECORDS, BUT I DO FEEL THAT A LOT OF PEOPLE STARTED TO TAKE ROLES THAT WERE OF THE CULTURE AND I THINK SOME OF THE BEST A&RS ARE PEOPLE WHO ARE DJS, AND SO I FEEL THAT IN SOME CASES THOSE PEOPLE WHO ARE OF THE CULTURE, AND MORE SPECIFICALLY DJS, THEY ARE EXCELLENT AT A&RING, BUT THEN, YOU HAVE A LOT OF A&RS THAT ARE JUST PEOPLE THAT CAME UP THROUGH THE RANKS OF A COMPANY THAT ISN'T REALLY OF THE CULTURE AND THEY'RE JUST LIKE INDUSTRY HACKS. SO, THEN NOW WE HAVE LIKE THIS WHOLE MOVEMENT WHERE THE WAY THAT PEOPLE PUT OUT MUSIC IS LIKE, YOU KNOW, THEY'RE BASICALLY DOING IT IN THEIR HOMES AND JUST THROWING IT OUT, WHETHER IT'D BE A SOUNDCLOUD RAPPER OR WHATEVER, AND THEY DON'T REALLY TAKE INPUT FROM ANYBODY BUT THEIR FRIENDS AND SOME OF THESE, LET'S SAY, YOU KNOW, WHETHER THEIR KIDS ARE OR DON'T MATTER THE AGE, BUT A LOT OF PEOPLE ARE PRETTY MUCH SELF-MADE. SO THEY DIDN'T HAVE AN A&R IN THEIR CORNER, BUT I FEEL THAT ONCE THEY GET AN A&R DOWN THE LINE AS THEY'RE GETTING MORE AND MORE SUCCESSFUL, I THINK THAT ADDS LIKE A COMPONENT WHICH ENHANCES THEIR MUSIC. IF ANYTHING, IF IT'S A GOOD A&R, YOU KNOW?
KRS-ONE ONCE SAID, "RAP IS SOMETHING YOU DO. HIP HOP IS SOMETHING YOU LIVE." – DJ EFN
VALIDATED: RIGHT. I DON'T KNOW, LIKE ME, I FEEL LIKE THE ROLE ISN'T WHAT IT USED TO BE ANYMORE. I THINK THAT IS NEAR EXTINCT. I THINK THAT IF LABELS STILL HAVE, AIN'T ARE IN THEIR OWN COMPANIES. LIKE IF BOBBY SCHMURDA HAD AN A&R, I DON'T THINK HE WOULD HAVE BEEN IN PRISON RIGHT NOW.
DJ EFN: I DON'T KNOW. I THINK PERSONALLY, THAT WOULDN'T BE THE A&R'S POSITION TO HELP ONE WAY OR THE OTHER BECAUSE REMEMBER, THE A&R, THEY FULFILLED TWO THINGS FOR THE LABEL: THEY EITHER FOUND TALENT AND THEN ONCE THEY GOT TALENT, THEY HELPED MAKE THE ALBUM WITH THEM. THEY TOOK THEIR EXPERIENCE TO EITHER GET FEATURES OR GET PRODUCTION AND THEY WERE THAT INPUT TO HELP SCULPT THAT ALBUM. AND THAT'S WHAT AN A&R'S TRUE POSITION IS, NOT TO MANAGE OR BABYSIT THE ARTIST. IT'S TO CULTIVATE AND DEVELOP THE TALENT, AND THAT'S WHAT AN A&R DOES. CAUSE THEN YOU HAVE MANAGEMENT AND I DID THAT, TOO. YOU KNOW, THAT'S A WHOLE OTHER THING. BUT A GOOD MANAGER COULD BE A GOOD A&R AS WELL, YOU KNOW?
VALIDATED: YOU'RE RIGHT ABOUT THAT. ALSO YOU HAVE A PRODUCTION COMPANY, YOU DABBLE IN FILM. YOU HAVE YOUR COMING HOME SERIES, WHERE YOU HAVE SOMETHING LIKE IN CUBA AND THEN IN HAITI AND THAT'S KIND OF COOL. AND THEN YOU ALSO HAD A FILM FROM YOUR COMPANY CALLED AVARICIOUS. DO YOU SEE YOURSELF MAKING MORE FILM PRODUCTION IN THE COMING YEARS?
DJ EFN: YEAH, THE COMING HOME SERIES IS SOMETHING THAT IS LIKE A HUGE PASSION PROJECT AND IT'S A SERIES THAT WE'RE ALREADY, WE'RE ABOUT TO GO, ACTUALLY NEXT MONTH, I'M GOING TO SOUTH AFRICA TO FILM OUR 6TH EPISODE IN THE DOCUSERIES, AND THEY'RE BASICALLY ONE HOUR DOCUMENTARIES THAT WE'VE BEEN DOING INDEPENDENTLY. THEY'VE BEEN LICENSED AND AIRED ON REVOLT TV FROM THE BEGINNING. WE WERE RIGHT THERE WHEN REVOLT LAUNCHED. WE WERE THE FIRST ORIGINAL ACQUISITION THAT THEY TOOK, AND IT WAS STARTED WITH CUBA AND THEN IT WAS PERU AFTER THAT THE NEXT YEAR AND THEN WE DID HAITI AND THEN WE DID VIETNAM. WE HAVE COLOMBIA THAT'S UNRELEASED AND WE'RE ABOUT TO GO TO SOUTH AFRICA, SO THAT'S GOING TO BE SIX IN THAT SERIES. AND THEN WE'RE GOING TO TRY TO REVAMP THE SERIES AND KIND OF LIKE REPRODUCE IT AND GIVE IT A WHOLE OTHER SEASON. SO TO SAY.
VALIDATED: THAT IS SO DOPE TO JUST LIKE TRAVEL TO DIFFERENT COUNTRIES AND FIND OUT WHAT'S THE HIP HOP SCENE IS LIKE BECAUSE YOU DON'T GET TO SEE THAT OFTEN EVERYWHERE. I KNOW THAT YOU DO DRINK CHAMPS, OF COURSE, AND I LIKE THE IDEA OF SITTING DOWN WITH PEOPLE AND Y'ALL HAVE DRINKS AND ALL. WHAT'S THE CRAZIEST INTERVIEW YOU AND NORE YOU EVER HAD AND DID YOU EVER HAVE SOMEONE ON THE SHOW THAT COULD NOT HANDLE THEIR LIQUOR?
DJ EFN: THE CRAZIEST INTERVIEW? I MEAN, THERE ARE SO MANY DIFFERENT THINGS THAT HAVE HAPPENED, AND ALSO WHEN PEOPLE ASK ME ABOUT DRINK CHAMPS SPECIFICALLY, BECAUSE WE'RE DRINKING, I OFTEN FORGET WHAT THE FUCK HAPPENED IN THOSE SHOWS. (LAUGHS) I CALL IT "BACARDI BRAIN." SO IT'S INTERESTING. LIKE WE'LL DO AN EPISODE AND THEN WE'LL RELEASE IT AND I RARELY GO BACK AND WATCH IT, SO THEN THE FANS OF THE SHOW AND THE LISTENERS WILL START TWEETING OR INSTAGRAMMING OR DMING ME ABOUT THINGS THAT HAPPENED IN THE SHOW AND IT'S ALL NEWS TO ME BECAUSE I DON'T REMEMBER.
VALIDATED: YOU'RE LOOKING BACK AT THE SHOW SAYING "HEY, I SAID THAT? I DID THAT?"
DJ EFN: YEAH. LIKE I DON'T GO BACK AND WATCH IT CAUSE WHO THE HELL WANTS TO GO WATCH THEMSELVES DRUNK? I DON'T WANT TO WATCH. SO YOU KNOW, IT'S IN THE MOMENT IT HAPPENED AND WE GIVE IT TO THE WORLD AND LET THEM ENJOY IT OR WHATEVER THEY WANNA THINK OF IT. BUT I WOULD SAY ONE OF THE FUN ONES OR SURPRISING ONES, TO ME, AND I ALWAYS SAY IT, SO IT'S NOT NEW, IS WHEN WE HAD 50 CENT ON THE SHOW AND IT WAS JUST, HE WAS JUST SO DOPE. YOU KNOW HE LIKE UNDERSTOOD WHAT WE WERE DOING. HE HAD FUN WITH IT. HE DOESN'T USUALLY DRINK AND HE DRANK BECAUSE HE'S SMART. HE WAS PROMOTING HIS EFFEN VODKA. SO WHAT BETTER WAY TO PROMOTE IT THAN HIM DRINKING HIS OWN PRODUCT? HE HAD FUN WITH IT AND WE, IN TURN, WE HAVE FUN. SO WHEN OUR GUESTS COME AND THEY UNDERSTAND WHAT WE'RE DOING BECAUSE SOMETIMES WE'LL HAVE A GUEST THAT'LL COME AND THEY THINK IT'S KINDA LIKE, I DON'T KNOW, LIKE A "GOT 'EM" SHOW, LIKE WE'RE GOING TO GET YOU DRUNK AND WE GOT TO TRY TO TALK SOME CRAZY SHIT. SO, THEY COME A LITTLE GUARDED AND THAT RARELY HAPPENS CAUSE MOST OF THE PEOPLE THAT COME ON DRINK CHAMPS, THEY COME BECAUSE THEY WANT TO COME AND THEY'RE FANS OF THE SHOW. BUT WHEN IT DOES HAPPEN, THE VIBE IS JUST TERRIBLE, BUT IT'S DOPE WHEN SOMEONE GETS IT AND HAS FUN WITH IT. AND 50 DID THAT WITH US AND THAT WAS A SUPER DOPE SHOW. AND THEN SOME SHOWS ARE CRAZY THAT ME AND NORE DO. EITHER NORE GOT SO FUCKED UP THAT, YOU KNOW LIKE WHEN HE WAS TELLING DAME DASH SOMETHING ABOUT TAKING OFF HIS SHIRT BECAUSE IT WAS HOT AND SWEATY IN THERE. I DON'T KNOW, IT GOT WEIRD AND DAME'S LIKE "YO, YOUR MAN IS SLURRING." AND THERE WAS AN EPISODE WHEN I WAS LIKE, I GOT SO MESSED UP THAT I JUST WALKED AWAY AND I WAS IN THE NEXT ROOM. I JUST WALKED OFF THE SHOW AND DIDN'T SAY ANYTHING, AND EVERYBODY THOUGHT I WENT TO THE BATHROOM, BUT I WAS IN THE NEXT ROOM JUST TAKING A NAP. (LAUGHS) THAT'S DRINK CHAMPS, YOU KNOW, WE'RE THE MOST PROFESSIONAL, UNPROFESSIONAL SHOW. THAT'S WHY I ADDED THAT TAGLINE SO THAT IF ANYBODY EVER HAD A COMPLAINT, I'M LIKE "LOOK, MAN, WE ALREADY TOLD YOU WHAT IT IS." (LAUGHS)
VALIDATED: I LOVE IT. AS FAR AS LIKE, YOU BEING A DJ, DO YOU CONSIDER YOURSELF A PURIST?
DJ EFN: I DON'T KNOW. I MEAN, PEOPLE SAY THAT TO ME ALL THE TIME AND I GUESS I COULD BE A PURIST. LOOK, I DON'T DJ AS MUCH AS I USED TO OR AT ALL BECAUSE I USED TO BE HEAVY WHEN IT WAS VINYL. I NEVER MADE THE TRANSITION LIKE THAT. YOU KNOW, I DO HAVE ALL THE EQUIPMENT, LIKE I EVEN GOT SPONSORED BY, BY TRACTOR AT ONE POINT WHERE I GOT ALL THE DIGITAL EQUIPMENT BUT I JUST NEVER MADE THAT TRANSITION BECAUSE I JUST ENJOYED DOING IT WITH VINYL. I MEAN I HAVE VINYL, I STILL HAVE ALL MY VINYL AND I GOT MY EQUIPMENT AND STUFF AND I WILL BE DOING SOME, SOME SETS COMING SOON. BUT, I GUESS BECAUSE OF THAT, I GUESS YOU COULD CONSIDER ME A PURIST. LIKE THERE'S JUST NOTHING LIKE VINYL. THERE'S NOTHING LIKE THE FEELING OF VINYL. BUT THE ONE THING I WILL NEVER MISS IS CARRYING ALL THAT MOTHERFUCKING VINYL, YOU KNOW?
VALIDATED: LISTEN, I WAS HELPING A FRIEND OF MINE, LIKE MOVE HIS VINYL FROM ONE ROOM TO ANOTHER IN THE PROCESS OF MOVING, ONE CRATE FELL DEAD ON MY FOOT AND I HAD ON FLIP FLOPS. I SCREAMED AND I CRIED AND MY FRIENDS WERE LIKE "WELCOME TO THE WORLD OF DJING." I'M LIKE, "SHUT UP."
DJ EFN: AND WHEN I USED TO DO CLUBS HEAVY, I WOULD TRY TO BRING ALL MY RECORDS. SO I HAD LIKE, THOSE TWOFOLD TABLES, LIKE THOSE PICNIC TABLES THAT FOLD OUT? I HAD TWO OF THOSE BEHIND ME AND ALL ON TOP OF THEM WERE CRATES AND ALL BELOW THEM WERE CRATES. IMAGINE TAKING THAT ALL TO THE CLUB. OH, MAN, THAT WAS CRAZY, BUT IT WAS JUST SO DOPE. BEING A VINYL DJ IS AN ART IN ITSELF VERSUS JUST OVERALL DJING NOW BECAUSE YOU JUST GOT INTO THIS RHYTHM WHERE YOU KNEW WHERE YOUR RECORDS WERE. GO THROUGH THEM QUICKLY, YOU KNEW WHAT THE SLEEVE LOOKED LIKE, YOU KNEW THE ARTWORK ON THE VINYL, YOU PULL THAT MOTHERFUCKER OUT, YOU KNEW WHERE TO PUT THE NEEDLE IN. ALL OF THAT BY ITSELF IS ITS OWN THING.
VALIDATED: I KIND OF SAY TECHNOLOGY HAS LIKE BENEFITED THE DJ BECAUSE I LIKE YOU SAID: "I DON'T WANT TO CARRY ALL THAT VINYL." I DON'T WANT TO CARRY ALL THAT SHIT EITHER. SO YOU KNOW, THANK GOD FOR SERATO, OTHERWISE I'LL BE CARRYING EVERYTHING LEFT AND RIGHT AND MY BACK WOULD BE OUT AND I HAVE LIKE MUSCLE SPASMS AND SHIT LIKE THAT. LIKE, NO, I DON'T WANT TO GO THROUGH ALL OF THAT. JUST GIVE ME SERATO ANY GODDAMNED DAY.
DJ EFN: YEAH, I STILL GOT "DJ NECK" WHERE YOUR NECK HAS BEEN LOOKING DOWN THE WHOLE TIME WHEN YOU'RE STANDING UP AND LOOKING DOWN AND DJING. I STILL GOT THAT FUCKING 'HUMPBACK OF NOTRE DAME" ON MY SHIT. (LAUGHS)
VALIDATED: WHAT ARTISTS ARE YOU DIGGING RIGHT NOW?
DJ EFN: FROM MIAMI, I ALWAYS TALK ABOUT DENZEL CURRY. HAVE YOU HEARD OF THEM? I HAVE AS OF LATE, BUT, HE'S DOPE AND HE EPITOMIZES WHAT I THINK IS LIKE WHAT I WOULD WANT TO SEE COMING OUT OF MIAMI. I LOVE DREAMVILLE, LIKE, THEIR WHOLE MOVEMENT. J. COLE, OBVIOUSLY KENDRICK, I LISTEN TO TYLER THE CREATOR NEW PROJECT THAT CAME OUT. IT'S FUNKY, BUT I DIG IT, THOUGH. I LISTEN TO A LOT OF FOLKS. I MEAN, IT'S JUST TOO MANY TO MENTION, BUT I DIG LIKE THE WHOLE TDE MOVEMENT. ANYTHING COMING IN. OH, REASON, WHICH IS THE NEW CAT ON THERE. I THINK HE'S HELLA DOPE. UM, YEAH, SO JUST, IT'S JUST A LOT OF STUFF. THAT'S THE THING NOWADAYS IS JUST SO MUCH MUSIC. I FEEL LIKE THAT'S A CRAZY QUESTION SOMETIMES FOR PEOPLE BECAUSE IT'S JUST LIKE WE'RE BEING BOMBARDED EVERY SINGLE DAY WITH NEW MUSIC OR NEW ARTISTS OR NEW MUSIC FROM EXISTING ARTISTS AND IT'S JUST LIKE, IT'S TOO MUCH. I FEEL IT'S SENSORY OVERLOAD AND I FEEL BAD FOR TODAY'S GENERATION. YOU KNOW, I FEEL IT'S GOOD THAT THEY HAVE SO MUCH VARIETY. BUT WHAT I THINK SUCKS FOR TODAY'S GENERATION IS THAT THEY DON'T HAVE THE TIME TO REALLY LIKE APPRECIATE THAT BODY OF WORK THAT AN ARTIST IS GIVING THEM BECAUSE THEY GOT TO MOVE ON TO THE NEXT THING SO QUICKLY AND THAT'S WHAT I THINK SUCKS CAUSE MY GENERATION, IN TERMS OF WHEN I WAS A TEENAGER, I WOULD GET A TAPE OR A CD, I COULD LIVE WITH THAT FOR A WHOLE MONTH, EASY. AND, YOU KNOW, LISTEN TO IT, READ THE CREDITS AND KNOW WHO PRODUCED IT AND SEE WHO THE THANK YOU'S ARE AND KIND OF GET A GLIMPSE OF, YOU KNOW, SNAPSHOT OF THIS PERSON'S CREW AND THEIR LIFE AND JUST REALLY ABSORB THE MUSIC AND WALK AWAY BEING A FAN OF SPECIFIC SONGS BECAUSE I JUST ABSORBED ALL THE MUSIC AND I FEEL LIKE PEOPLE DON'T HAVE THE LUXURY TO DO THAT ANYMORE.
VALIDATED: NOPE. THIS GENERATION HAS THE ATTENTION SPAN OF A GOLDFISH. THAT'S WHY EVERYTHING IS THE WAY IT IS RIGHT NOW. IT'S LIKE ONE ARTIST COULD COME OUT WITH A SONG AND THEN THREE DAYS OR A WEEK LATER, "I GOT A BRAND NEW ON SINGLE OUT". I'M LIKE "DAMN, I DIDN'T FINISH HEARING THE REST OF THE OTHER SHIT. YOU GOT SOME NEW SHIT OUT RIGHT NOW?" IT'S CRAZY.
DJ EFN: BUT YOU KNOW, I WOULDN'T PUT IT ON JUST THE GENERATION ON HAVING THAT ATTENTION SPAN. I THINK ALL OF US ARE AFFECTED BY IT BECAUSE WE'RE ALL USING THE SAME TECHNOLOGIES. WE'RE ALL FALLING KIND OF LIKE PREY TO IT WHERE WE JUST WERE CONSUMING THE WAY THAT THESE TECHNOLOGIES ARE FORCING US TO CONSUME THINGS THAT WE'RE GIVING IN.
VALIDATED: AND SO WE WERE JUST LEARNING HOW TO ADAPT.
DJ EFN: YEAH, WE ALL DO. YOU KNOW, ALL I GOTTA TELL YOU, I CAN TELL YOU NOSTALGICALLY, WHAT I REMEMBER HOW I USED TO BE AND HOW DOPE IT WAS TO HAVE TO WAIT FOR THE NEXT ALBUM TO COME OUT, THE NEXT ARTISTS DROP A MONTH LATER, YOU KNOW, OR YOU JUST HAD TO WAIT FOR THINGS AND IN THAT WAITING, YOU ABSORB WHAT YOU CURRENTLY HAD. THAT'S JUST BACK THEN. NOW, NOBODY CAN DO THAT. IT DOESN'T MATTER IF YOU'RE YOUNG OR OLD. WE'RE ALL IN IT TOGETHER TECHNOLOGY-WISE AND WE'RE ALL BEING TARGETED THE SAME WAY. SO ALL OF OUR ATTENTION SPANS ARE BEING DESTROYED.
VALIDATED: HOW DO YOU FEEL ABOUT THE CURRENT STATE OF HIP HOP? THE REASON WHY I ASKED YOU THAT IS BECAUSE I WATCHED A RECENT INTERVIEW OF YOURS AND YOU WERE TALKING ABOUT HOW HIP HOP IS PERCEIVED ABROAD AND I HAVE SO MANY FRIENDS THAT TRAVEL OVERSEAS TO DO PERFORMANCES AND IT'S LIKE THEY EMBRACE IT. YOU WERE SAYING HOW PEOPLE IN OTHER COUNTRIES ARE SAYING THAT HIP HOP OVER HERE IN AMERICA IS LOSING ITS LUSTER AND I FOUND THAT SO INTERESTING. SO HOW DO YOU FEEL ABOUT THE CURRENT STATE OF HIP HOP?
DJ EFN: I THINK THAT'S A TOUGH QUESTION TO REALLY ANSWER BECAUSE THERE ARE SO MANY LAYERS TO IT BECAUSE IF YOU ADD ONE PERSON, THEY ARE ONLY THINKING OF HIP HOP AS A "RAPPER PUTTING OUT MUSIC" THING, BUT IF YOU ASKED THE NEXT PERSON OR YOU ASK SOMEONE THAT REALLY IS LIKE THINKING OF HIP HOP FOR WHAT IT REALLY IS, THE CULTURE, THEN THAT PERSON HAS TO BE UNDERSTANDING LIKE WHAT'S GOING ON IN THE B-BOY AND B-GIRL COMMUNITY, WHAT'S GOING ON IN THE GRAFFITI WORLD, WHAT'S GOING ON IN THE DJ WORLD. AND I JUST FEEL THAT'S WHERE WE KIND OF LIKE SEE WHERE HIP HOP IS SUFFERING, WHERE HIP HOP HAS BEEN SPLINTERED INTO ALL THESE DIFFERENT DIRECTIONS. AND ALSO WHAT PEOPLE HAVE PUT UP AS JUST STANDALONE HIP HOP IS A RAPPER, THAT'S KINDA LIKE WHERE WE'VE SUFFERED BECAUSE WHAT HAPPENS IS WITH THE ADVENT OF THE MUSIC SPREADING OUT TO ALL COMMUNITIES AND ALL PEOPLE OR EVERYBODY HAS EVENTUALLY, FROM THE IPOD TO THE IPHONE AND NOW EVERYBODY, IT WASN'T JUST A HIP HOP HEAD THAT LISTENS TO HIP HOP, YOU COULD BE THIS KID IN IDAHO AND YOU MIGHT HAVE ON YOUR LIST COUNTRY MUSIC ON YOUR PLAYLIST OR HIP HOP AND TO THEM, OH YEAH, I'M HIP. I LISTEN TO HIP HOP CAUSE THEY HAVE TWO SONGS IN THEIR PLAYLIST. SO WHAT I'M TRYING TO SAY BY ALL OF THIS IS THAT AT THE END OF THE DAY, IS HOW DO YOU TAKE THE TEMPERATURE OF WHAT'S THE STATE OF HIP HOP? IF MOST PEOPLE DON'T EVEN KNOW WHAT HIP HOP IS ANYMORE? THEY DON'T KNOW ABOUT ALL OF THEM IS THEY DON'T KNOW ABOUT THE CULTURE. EVEN THE INDIVIDUAL ELEMENTS DON'T KNOW ABOUT EACH OTHER BECAUSE IT'S BEEN SPLINTERED WHERE THE B-BOYS AND THE B-GIRLS DON'T FEEL LIKE THEY'RE PART THE RAPPER VERSION OF HIP HOP BECAUSE THESE RAPPERS DON'T GIVE A FUCK ABOUT THEM AND THE GRAFFITI ARTISTS FEEL ALIENATED BECAUSE AIN'T NOBODY GIVES A FUCK ABOUT THEM. TALENTED DJS HAVE GONE TO LIKE EDM OR DRUM AND BASS BECAUSE HIP HOP DIDN'T GIVE A FUCK ABOUT THEM AND THEIR SKILLS THAT THEY GAINED FROM BEING A HIP HOP DJS. AND IN THE END, WHAT DO PEOPLE SAY, YOU KNOW, DIVIDE AND CONQUER, AND THAT'S KINDA WHAT HAPPENED TO HIP HOP. THEY'VE DIVIDED US AND THEY'RE CONQUERING US, AND IT'S SAD IS ALL OF THAT IS THE POSITIVE SIDES IS THAT THE PEOPLE WHO ARE, AND IT'S MOSTLY RAPPERS FOR WHAT IT IS, THE PEOPLE WHO HAVE BEEN ABLE TO GAIN FINANCIALLY THROUGH HIP HOP MUSIC HAVE STARTED TO LIKE BECOME OWNERS OF WHAT THEY'RE DOING AND KIND OF RETURNING AND GIVING BACK TO THE CULTURE. THAT'S WHAT WAS DOPE WHEN WE DID THE NAS EPISODE. WE WERE IN A GALLERY THAT WAS DEDICATED TO LIKE BASICALLY LIKE THE PART OF THE GRAFFITI CULTURE OF HIP HOP AND IF YOU LOOK AT EVERYTHING LIKE NAS IS DOING THROUGH HIS MOVEMENT, HE'S VERY CULTURE-CENTRIC. LIKE HE'S, HE'S DOING THINGS THAT HE FEELS IS PRO THE CULTURE AND SHOWING YOU ALL ASPECTS OF THE CULTURE, NOT JUST ABOUT THE RAPPER, AND THAT'S WHAT I THINK IS DOPE. LIKE YOU WORK ON A BUSINESS SIDE, PEOPLE ARE KINDA LIKE GRADUATING TO A PLACE WHERE WE'RE KIND OF BEING ABLE TO OWN THE CULTURE AGAIN AND KINDA MAYBE DICTATE HOW IT'S BEING PUT OUT THERE AND THEN MAYBE TRYING TO BRING IT BACK TOGETHER, WHICH I THINK IT WOULD BE DOPE, YOU KNOW, TO KIND OF LIKE CONSOLIDATE AND SHOW EVERYBODY LIKE HIP HOP IS A COMPLETE CULTURE WITH ALL THESE ELEMENTS THAT ARE FUCKING BEAUTIFUL TOGETHER AND ALL COME FROM THE SAME PLACE. AND AGAIN, WHEN YOU TALKED ABOUT ME GOING OVERSEAS, YEAH, THEY LOOK AT US AND THEY BASICALLY ARTICULATED DIFFERENTLY, BUT SAY THE SAME THING: "YOU GUYS TOOK AN ART FORM AND PERVERTED IT AND IT'S JUST BUSINESS FOR YOU GUYS. YOU GUYS STOPPED DOING HIP HOP A LONG TIME AGO" AND THEY STOPPED LOOKING TO US AS INSPIRATION OR AS THE PEOPLE WHO ARE KIND OF LEADING HIP HOP. THEY'RE LOOKING NOW TO THEIR REGIONAL PEERS. SO I WENT TO VIETNAM. THEY'RE LOOKING AT KOREA, JAPAN OR EVEN CHINA FOR WHAT THE NEW MOVEMENTS IN HIP HOP ARE AND YOU GO TO SOUTH AMERICA LOOKING TO THEIR OTHER REGIONAL PEERS BECAUSE THEY'RE STARTING TO LOSE HOPE IN US BECAUSE WE'RE OVER HERE BICKERING, FIGHTING AND BULLSHITTING, TALKING ABOUT HOW MUCH MONEY WE MAKE AND MEANWHILE, THE ART FORM IS SUFFERING.
VALIDATED: THE ART FORM HAS BEEN BASTARDIZED.
DJ EFN: YEAH, BUT THERE'S HOPE. WE CAN SAY ALL OF THIS STUFF, BUT THERE IS ALWAYS GLIMMERS OF HOPE BECAUSE EVER SO OFTEN I'M SEEING THESE YOUNG KIDS NOWADAYS, SO MANY ARTISTS AND SO MANY PEOPLE PUTTING OUT MUSIC. IT'S HARD TO HONE IN ON ONE, BUT WHAT'S ILL IS THAT PEOPLE ARE FINDING THEIR AUDIENCES. LIKE, I USED TO TALK ABOUT DENZEL CURRY FOR YEARS AND NOBODY KNEW WHO I WAS TALKING ABOUT AND I WAS TELLING PEOPLE, "YO, THIS DUDE IS DOING FESTIVALS." HE'S GOT MILLIONS OF FANS AND NOW THAT HE STARTED TO REACH THE MAINSTREAM, BUT HE HAD BEEN REACHING FANS AROUND THE WORLD AND THAT'S TODAY'S LUXURY BECAUSE OF THE INTERNET, ARTISTS CAN CONFINE THEIR FANS DIRECTLY. AND SO THERE ARE GLIMMERS OF HOPE BECAUSE THAT WE DON'T EVEN KNOW ABOUT OF AN ARTIST FROM WHEREVER THE FUCK! YOU KNOW, THAT'S DOING SOME ILL ASS HIP HOP SHIT THE WAY THAT WE THINK THAT IT SHOULD BE DONE. AND WE JUST HAVEN'T FOUND THAT PERSON YET. SO THERE ARE PEOPLE OUT THERE DOING IT. JUST LIKE HOW KENDRICK FOR HIS GENERATION WAS ONE OF THOSE PEOPLE THAT I FELT LIKE CARRY THAT TORCH. LIKE, "NAH, WE GOING TO DO THIS THE RIGHT WAY", YOU KNOW?
VALIDATED: I REMEMBER SOMEBODY MADE WHAT I SAID INTO A QUOTE AND PUT IT ON INSTAGRAM, I SAID, "HIP HOP HAS THE FIVE ELEMENTS. WHEN YOU REMOVE THE ELEMENTS, IT'S SIMPLY CALLED RAP."
DJ EFN: KRS-ONE ONCE SAID, "RAP IS SOMETHING YOU DO. HIP HOP IS SOMETHING YOU LIVE."
VALIDATED: WHAT ADVICE THAT YOU WOULD GIVE TO A DJ SUCH AS MYSELF?
DJ EFN: I WOULD SAY JUST DO IT FROM THE HEART. YOU KNOW, DON'T DO IT HOW OTHER PEOPLE WANT YOU TO DO IT. BECAUSE WHERE I COME FROM, THE DJ DOES WHAT THEY NEED TO BE DOING. WE'RE NOT JUKEBOXES, WE'RE NOT PUSH BUTTONS. WE KIND OF SET THE TONE FOR THINGS. WE'RE THE ONES WHO SET THE MOOD. AND THAT'S WHAT I WOULD JUST SAY, JUST JUST DO WHAT YOU DO FROM THE HEART. I TRIED TO DO EVERYTHING FROM HOW FROM MY GUT WHAT I FEEL IS RIGHT. IF IT DOESN'T FEEL RIGHT, I USUALLY DON'T DO IT. YOU KNOW, THERE'S TIMES IN YOUR LIFE WHERE YOU'VE DONE SOMETHING THAT YOU DIDN'T FEEL WAS RIGHT, BUT YOU REGRET IT. SO, YEAH. DO EVERYTHING YOU KNOW FROM A PASSIONATE PLACE AND YOU'LL FIND SUCCESS, WHETHER IT BE IMMEDIATE SUCCESS MONETARILY OR JUST IMMEDIATE GRATIFICATION THAT YOU DID SOMETHING PASSIONATE BUT DOWN THE LINE, IN THE LONG RUN, I GUARANTEE YOU THAT IT'LL EVEN BE MONETARY IF YOU STICK TO YOUR GUNS.