INTRODUCING: THE FAMILY TIES PODCAST S1: A CRAZY HOOD STORY (AUDIO)
As Crazy Hood Productions celebrates our 25th anniversary we thought it was only right to talk to all the members both behind the scenes and in front for an in depth convo we call Family Ties. Stayed tuned for next weeks premiere episode! Episodes will drop every week after!
Welcome to Family Ties, this is a podcast hosted by Jae Havana. For the past few months I've had the opportunity to talk to the entire Crazy Hood Productions family.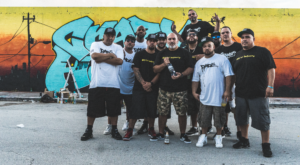 This is a story of a brotherhood that was birthed in Miami, 25 years ago. And through our love of Hip Hop we've built a legacy that goes beyond DADE County. As a collective of talented individuals with a passion for hip hop, we've creatively maneuvered our love of the culture into a brand that's been a staple in Hip Hop History.
We've been able to reinvent ourselves successfully and genuinely throughout the years. As Hip-Hop has changed since its origin, we continued to push originality. As the days of the BOOM BAP turned into TRAP, we creatively developed a platform to tell the stories of CHAMPS.
Tune in each week as I speak to each member. Listen to their story from beginning to present.
Always authentic, always CRAZY.
https://audioboom.com/posts/6631721-a-crazy-hood-story
---
MAY 2, 2018 |PUBLISHED BY JAE HAVANA | CRAZY HOOD PRODUCTIONS