FAMILY TIES PODCAST S1: EPISODE 1 W/ PAUL AKA WEIRD THOUGHTS
Today's episode of Family Ties is about Paul also known as Weird Thoughts, one of the founding members of Da All, OG Crazy Hood Member and host of Drink Champs Sports. Paul's story starts in Passaic, New Jersey, as his family (originally from Colombia) settled in the small New Jersey town. Here is where Paul discovered hip-hop and fell in love with the sport of Volleyball.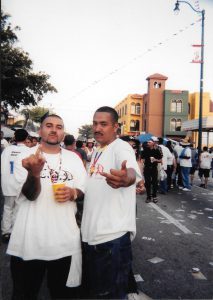 A pivotal point in Paul's childhood is when he heard the song "White Lines" by Melle Mel and he explained to me how it made an impact on his life. Although the rhythm of the song made him reminisce of the neighborhood, of playing basketball, barbecuing and having a good time. The lyrics told the realistic tale of the everyday struggles that occurred in the same neighborhood. The lyrics immediately hit him and he was able to relate first hand, what he saw happening in his neighborhood to the lyrics he heard in the song.
Melle Mel "White Lines" – When originally released on Sugar Hill Records, the record was credited to Grandmaster & Melle Mel (some international issues carried the credit Grandmaster Flash & Melle Mel). This was done to mislead the general public into believing that Grandmaster Flash participated on the record,[3] when in fact he played no part and had already left the Sugar Hill Records label the previous year. [1]

The song was co-written by Melle Mel and Sylvia Robinson. Originally, it was intended to be an ironic celebration of a cocaine-fueled party lifestyle, but it was abridged with the "don't do it" message as an anti-cocaine song as a concession to commercial considerations. [2]

"White Lines" contains a sample of "Cavern" by Liquid Liquid and a sample "Little Jack Horner" by Traditional Folk. [3]
Hip-Hop allowed him to express himself verbally. Reciting the rhymes of Run DMC and Special Ed's "I Got It Made".
Special ED "I Got It Made" – From the album Youngest In Charge the debut album sold more than 500,000 copies. In 1998, the album was selected as one of The Source's 100 Best Rap Albums Ever.[4]"I Got It Made" contains a sample of "I Don't Know What It Is, But It Sure Is Funky" by Ripple. [5]
However, sports allowed him to express himself without words but rather his athletic abilities. Basketball and Football where among his favorite sports but Volleyball is the sport that excelled him as an athlete. Through sports and hip-hop, he was able to gain respect amongst his peers and build friendships that would last a lifetime.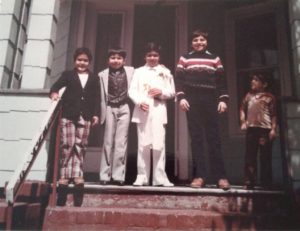 His journey to Kendall, Florida was bitter sweet at first. Leaving Passaic, he left behind a lot of people he cared about and a place that he called home. Miami/Kendall was a culture shock to Paul, as the days of the cold New Jersey winters were replaced by warm winters and a yearlong tropical climate. The simple things like walking up the block to the local bodega were replaced by car rides to the supermarket. The Miami sand instantly replaced the New York/New Jersey norm of snow. And sandals and Bermuda shorts replaced normal fashion attire of jeans and boots.
Fortunately for Paul, his cousin Steve aka Oso lived in Kendall and attended the same High school; Sunset High. Through his cousin, Paul was able meet more people and build more friendships.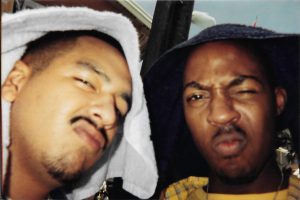 As Paul expanded his community he eventually met EFN through mutual friend called Donuts. After learning that they both shared the same favorite rapper (Ice Cube) they instantly built a bond and never stopped talking about Hip-Hop ever since.
Tune in weekly and hear the individual stories of each Crazy Hood Productions member. A crew of high school friends with a common passion for the Hip Hop culture that wanted to represent their city of Miami, Florida.
https://audioboom.com/posts/6631806-episode-01-paul-aka-weird-thoughts
---
Footnotes:
[1] https://en.wikipedia.org/wiki/White_Lines_(Don%27t_Don%27t_Do_It)
[2] Brewster, Bill; Broughton, Frank (1999). Last Night a Dj Saved My Life: The History of the Disc Jockey. Headline Book Publishing. p. 255. ISBN 0-7472-6230-6. https://books.google.com/books?id=ajMFBAAAQBAJ&pg=PA255&hl=en#v=onepage&q&f=false
[3] Who Sampled – https://www.whosampled.com/Grandmaster-Melle-Mel/White-Lines-(Don%27t-Don%27t-Do-It)/
[4] The Source's 100: http://www.rocklistmusic.co.uk/source.htm#100albums
[5] Who Sampled -https://www.whosampled.com/Special-Ed/I-Got-It-Made/
---
MAY 2, 2018 |PUBLISHED BY JAE HAVANA | CRAZY HOOD PRODUCTIONS