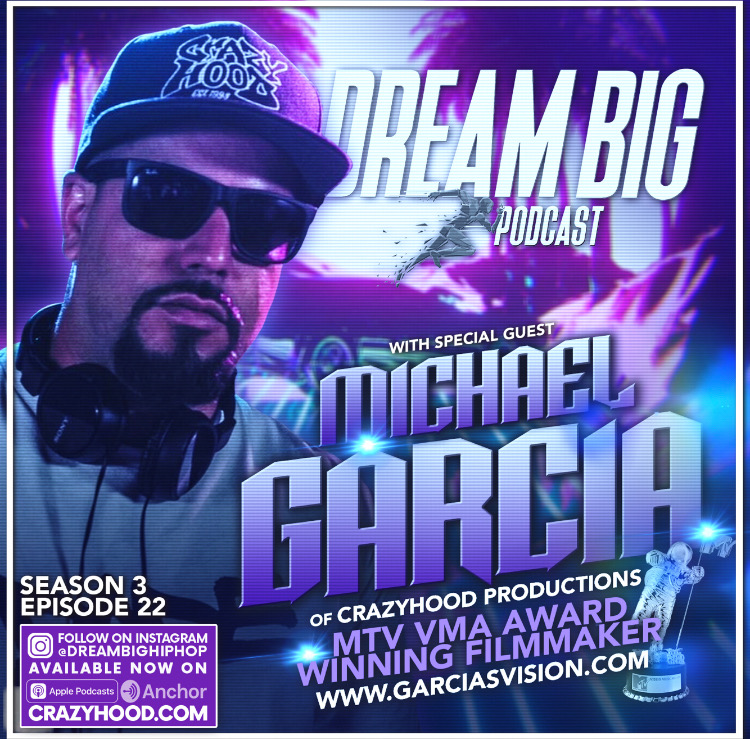 Next on DreamBIG Podcast you will hear from Garcia, another brother of mine from CHP!  He will go in depth of how he started as an MC striving to professionally package his music and distribute himself to building momentum in the city of Miami with a radio hit single "Clap Yo Hands!".  
Mike decided  to attend film school, engaging with Miami hiphop icon DJ EFN to begin Coming Home Series where eventually taking on full steam in directing music videos from Kodak Black to the legendary group The Police own's Sting and Shaggy and many many more.  As fate would have it he was able to fulfill destiny by working alongside Machine Gun Kelly and Megan Fox which led to MTV VMA historical Moonman award that is well deserved and both Garcia and MGK first nomination and win from the prestigious MTV VMA!
Many years Garcia has shown relentless passion to continue his journey in the film world with short film releases of Avaricious, Siblings and most recent Sophism which have garnered him many offers into the Hollywood circle which we will support and witness further his growth as a film maker and "Art-trepreneur!"
DreamBIG continues to display a balance of outstanding individuals that all share a common theme in this platform which is to Dream BIG and overcome all doubt, trials, tribulations of uncertainty and achieve greatness!
Let's get right into it, Thank you again everyone for all your support and listens. 
Episode 22 w/ Michael Garcia straight from the 305!