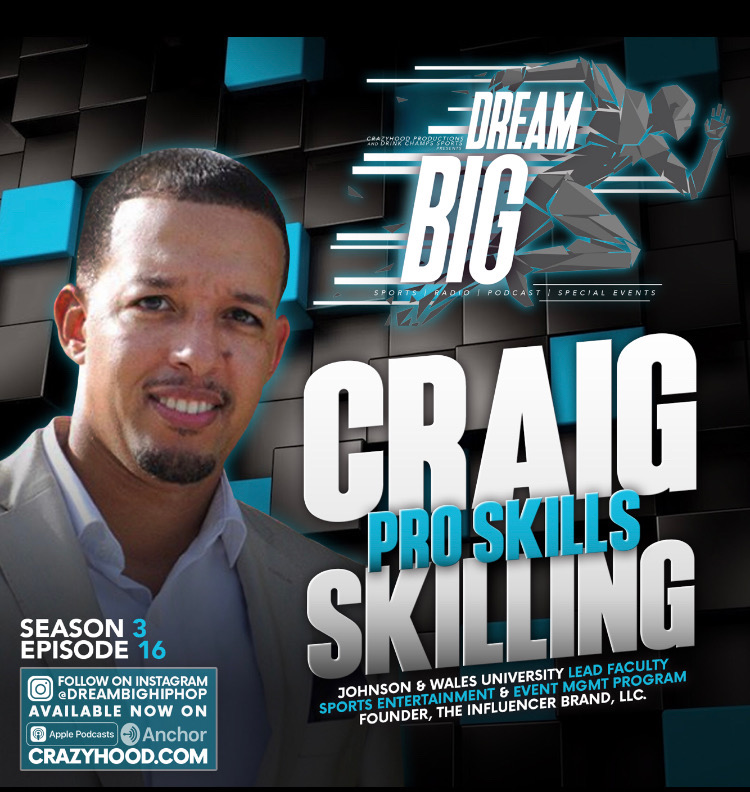 Here at DBHHP, we are extremely proud of each and every single guest that shares with us their journey and tales of what they have encountered to find their "DreamBIG Moment".
If you haven't heard of Johnson & Wales University and its Sports Entertainment & Event Program, we would like to introduce to you, JWU's Lead Faculty, Craig Skilling, better known to his students has "Pro Skills"! He will give us in detail his love for being inspiring athlete, an entrepreneur as the Founder of THE INFLUENCER LLC brand and an upcoming passion project documenting NBA legend Wali Jones.
Season 3 has been a huge turn of events as of yet and we are proud to have leveled the landscape of showcasing athletes/entrepreneurs. Each episode is a new informative piece of journalism from real people with real stories and Pro Skills does not let us down! Thank you for tuning in and you can find us on IG @dreambighiphop @drinkchampsports and on Twitter @drinkchampsport Without further delay here,.. Episode 16 w/ Craig "Pro Skills" Skilling!