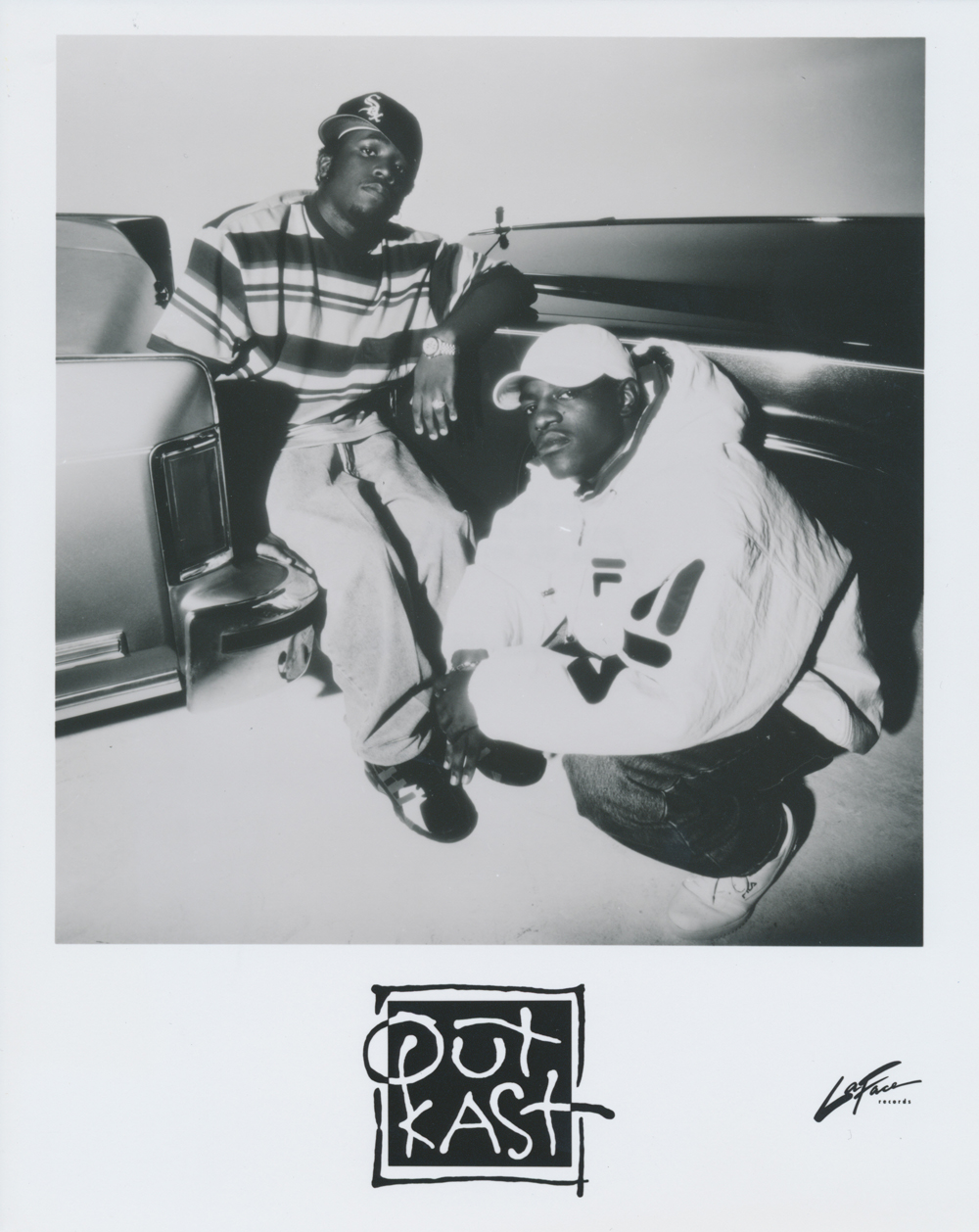 As my old pal Michael Gonzales and others have noted, 2014 is the 20th anniversary of the release of Outkast's debut album, Southernplayalisticadillacmuzik. Combined with DJ EFN's enduring affection for the album and the crew, this red-letter date is all the excuse we need to dive back into their files.
Andre Benjamin and Antwan "Big Boi" Patton were just 18 years old when that first album dropped. Highschool classmates in Atlanta, they'd started out calling themselves The Misfits, then settled on OutKast. The idea is the same in both cases. As Dre explained to Tomika DePriest in a story published by RapPages in September of 1994: "You brown skin, you're an outcast – to society, anyway."
That kind of defiant race pride probably owes at least something to Arrested Development, who burst out of Atlanta in '92 with "Tennessee," a song that married Public Enemy's political consciousness to a specifically Southern sense of place. There was, as well, another side to OutKast, a side that reflected Snoop Dogg's deep funk, sense of humor and love of street life.
To many of us who weren't living in Atlanta then, OutKast first attracted significant attention not with a recording, but with a short, potent speech. Accepting the award for Best New Group at The Source Awards in 1995 – at a time when the beef between the East and West coasts seemed to crowd everyone and everything else out of the picture – Andre said, "I'm tired of folks, close-minded folks. It's like we got a demo tape and don't nobody wanna hear it. But the South got somethin' to say." More precisely, Dre believed that the South had something to prove, a conviction that appears to have been built into OutKast's DNA. A year-and-a-half before The Source Awards, the label bio accompanying the release of Southernplayalistic promised, "…OutKast's Southern flavor will silence the critics!"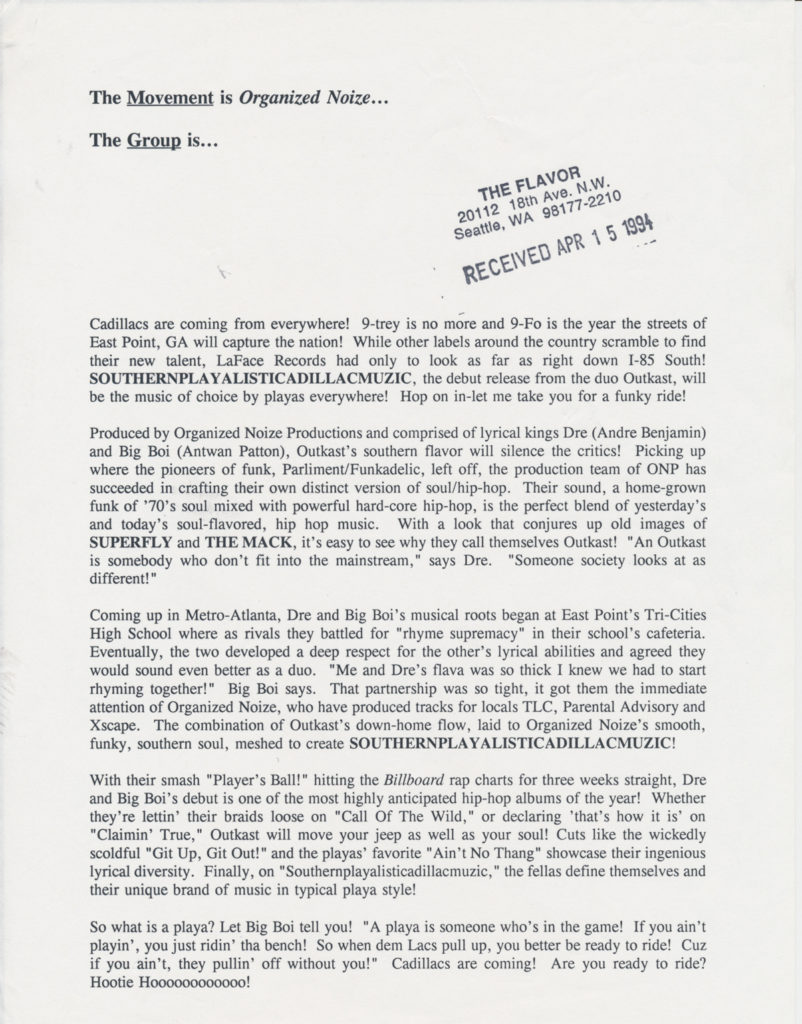 In truth, the South did seem to come late to the party. Very broadly, rap was born in New York City and later took firm root on the West Coast. By the late Eighties, Luke & the 2 Live Crew were making noise out of Miami, Too Short and Hammer were doing their thing in the Bay Area, and the Geto Boys were demonstrating that Houston had something to say. But the South per se – a/k/a the region defined by the Old Confederacy — had yet to be heard from, at least on the national level. Even OutKast seemed to come into the game sideways; they were the first rap act signed to LaFace, a label previously devoted to R&B in the persons of Toni Braxton, TLC, and Usher.
As Professor Gonzales points out, "Players Ball," OutKast's first single, started off "as a throwaway Christmas song for LaFace Records in '93 and quickly became an anthem." Re-recorded without the Christmas references, and boasting a video directed by a young up-and-comer who went by the name of Puff Daddy, "Player's Ball" really took off at Freaknik – the huge Spring Break blow-out held in Atlanta for the region's historically black colleges and universities – in the spring of '94. Eventually, it went to number one on Billboard's Hot Rap Tracks chart.
The first OutKast press clipping in my files was published in The Bomb in November of 1993.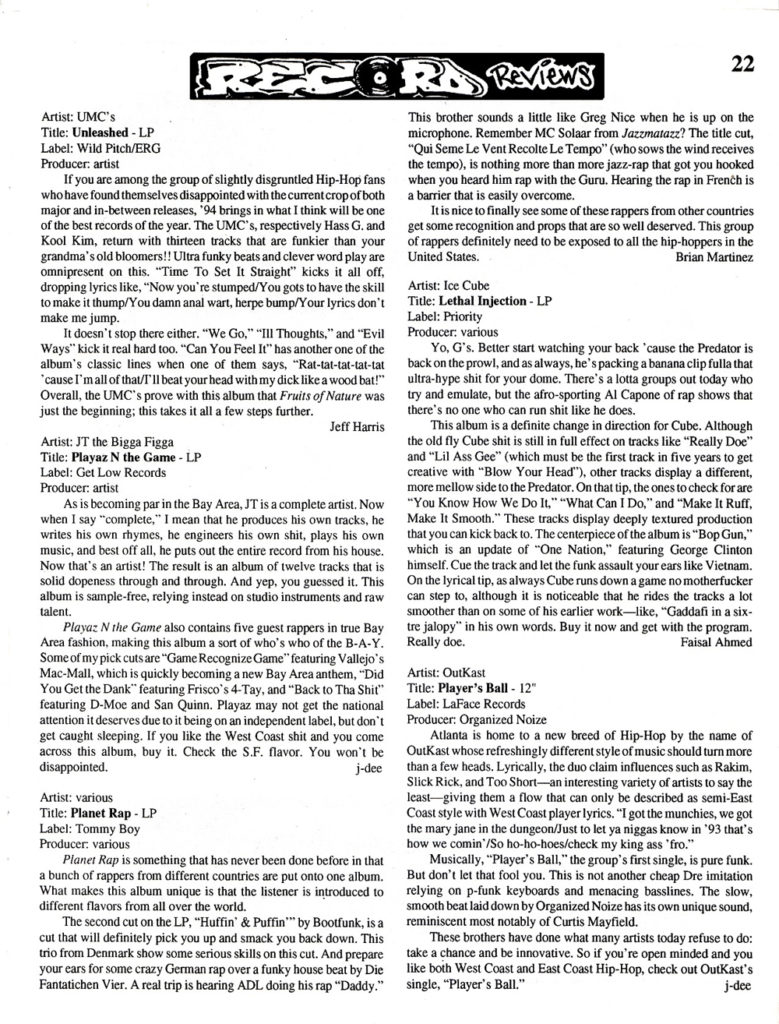 A review of "Player's Ball" by a writer named J-Dee, the piece implicitly confirms the uphill battle faced by these Southern rappers: "If you're open-minded and you like both west coast and east coast hip-hop," check out 'Player's Ball.'" [Emphasis added.]
The Bomb, by the way, was published out of the Bay Area by a local dj named David Paul between October 1991 and August/September 1996, after which Paul turned it into a record label devoted to turntablism. Editorially, the magazine was as open to new rap groups and indie rap groups as it advised its readers to be.
Released on April 26, 1994, Southernplayalistic was reviewed at length by James Bernard in the May 27, 1994 issue of Entertainment Weekly. Bernard recognized Outkast as something new in Southern hip-hop, preferring it to "Arrested Development's suspiciously peppy, idealized version of down-home." He also focused in on "Git Up Git Out," an album track that would be released as the album's third single in October of that year: "It's about time someone told today's weed-obsessed youth to 'get up, get out and get something/Don't spend all your time trying to get high.'"
At the time, Bernard was moonlighting. As a charter member of The Source's editorial team – known as the Mind Squad — his work for EW (a Time/Life publication) was a sideline. And, sure enough, The Source was on the case. Self-described as "the magazine of hip-hop music, culture and politics" and known more informally as the Bible of hlp-hop, The Source made Southernplayalistic the lead review in its June issue.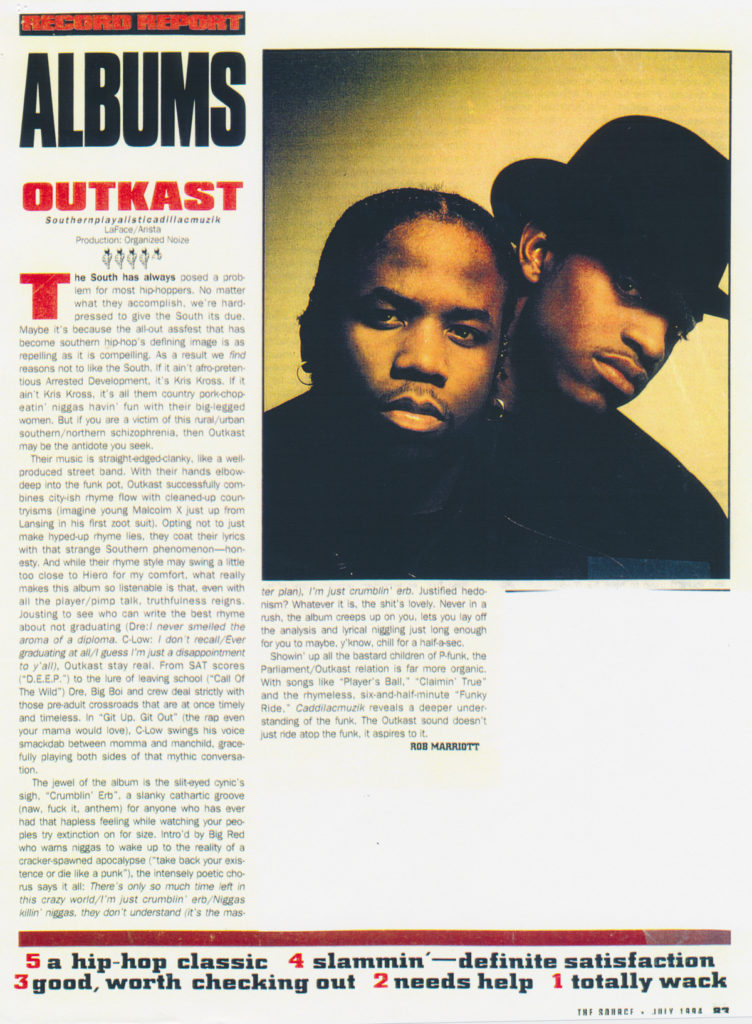 Like virtually everyone else who weighed in, Associate Editor Rob Marriott approached his subject with caution: "The album creeps up on you, lets you lay off the analysis and lyrical niggling just long enough for you to maybe, y'know, chill for half-a-sec." He awarded the album four-and-a-half out of five stars.
That same month, writer Josh Levine joined the fun over at ego trip.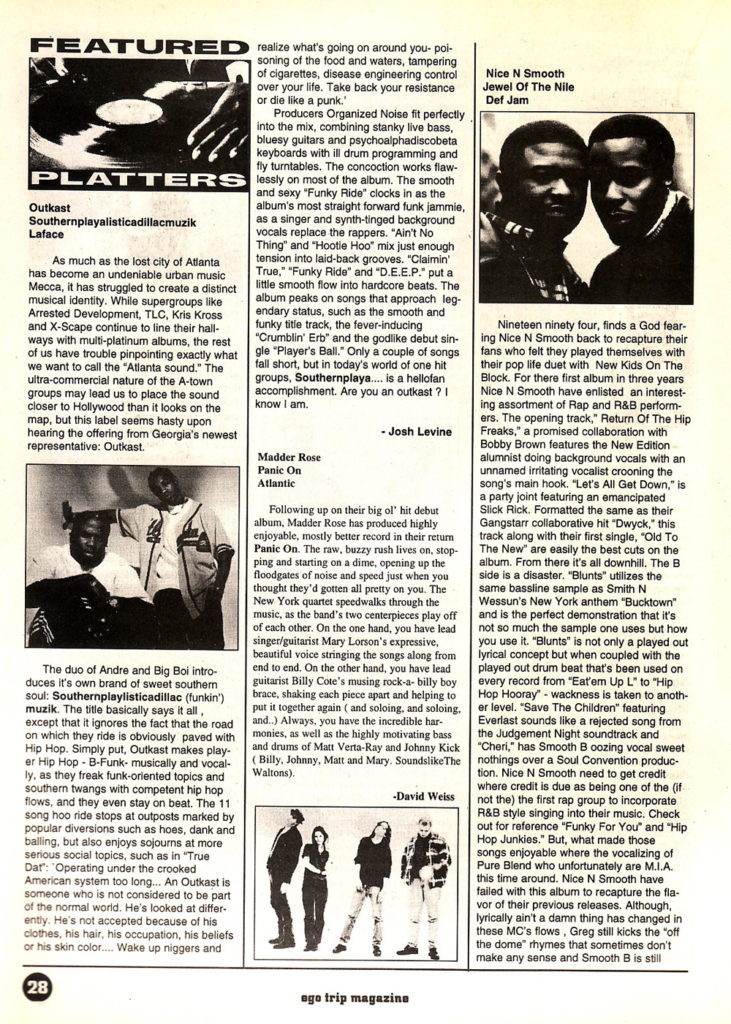 The success of Arrested Development and Kriss Kross aside, Levine was skeptical of rap crews from Atlanta, noting, "the ultra-commercial nature of the A-town groups may lead us to place the sound closer to Hollywood than it looks on the map." Ouch! In the end, however, he liked Southernplayalistic. And indeed, connoisseurs might've predicted that OutKast would win a good look in ego trip. Notably fun-loving, intelligent and self-deprecating, ego trip was a magazine whose expansive idea of hip-hop included such outcasts as skateboarders and punk-rockers alongside the generally accepted big willies of rap.
In August of '94, LaFace bought a full-page ad for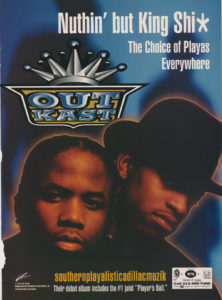 Southernplayalistic in Rap Pages magazine.
A repurposing of the album's cover art, the ad buries the album's title near the bottom of the page, which leaves plenty of room for the phrase "Nuthin' but King Shit" at the top. This was likely local Atlanta slang at the time; it turns up twice on the album, the second time in one of Dre's rhymes in "Crumblin' Erb," the first time on the album's intro by Peaches. (A short, but super-flavorful radio-styled announcement, the track samples "As If" by the Soft Machine, a great English avant-rock band from the Sixties and Seventies. Hearing it now, I tip my hat to OutKast's producers, Organized Noize. As someone who loved Soft Machine as a young man, I certainly never would have thought of sampling them for rap purposes.) More to the point, "Nuthin' But King Shit" has the advantage of not including the word "Southern."
That same month LaFace sent out a postcard to rap media promoting Southernplayalistic.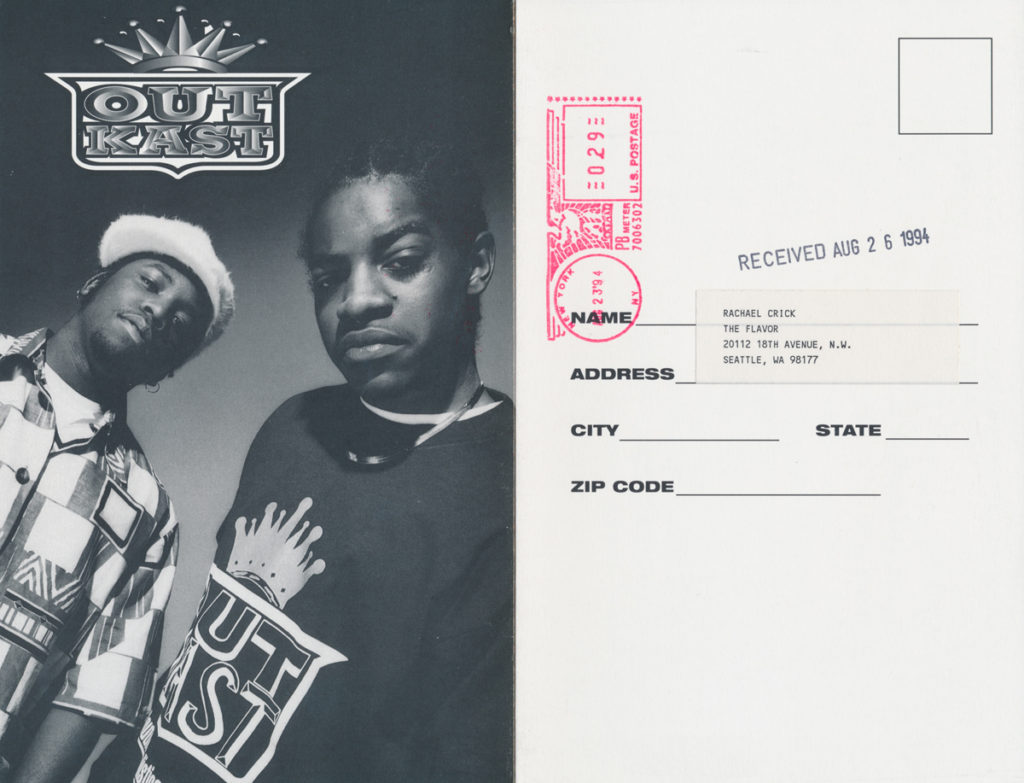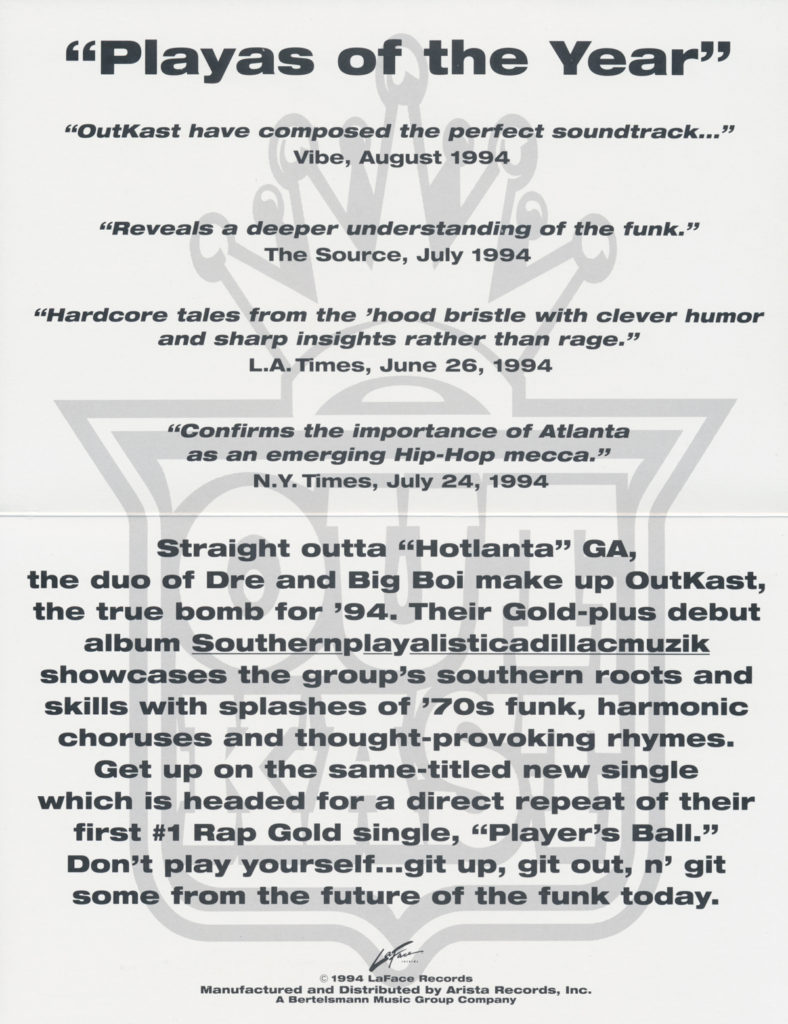 The front side features a black & white photo of the guys, fresh and clean and ice-grilled. The message side crystalizes some of the positive press that had been piling up in the previous couple of months.
My copy of the postcard was originally mailed to The Flavor, a rap magazine founded by Alison Pember in Seattle in February of '92. Sometime after July of '96, when The Flavor stopped publishing, Alison shipped the magazine's entire archives – a ton of admirably well-organized press releases, bios, and photos — to the gents at ego trip. The Ego Trippers then passed it on to yours truly, who gratefully added it to the Adler Archives. (Don't you love the "received" date stamp on the postcard's front side?)
Quick on the pick-up, The Flavor boasted a review of Southernplayalistic in their August issue.

One of the very first feature stories about OutKast appeared in the September '94 issue of RapPages, reproduced below.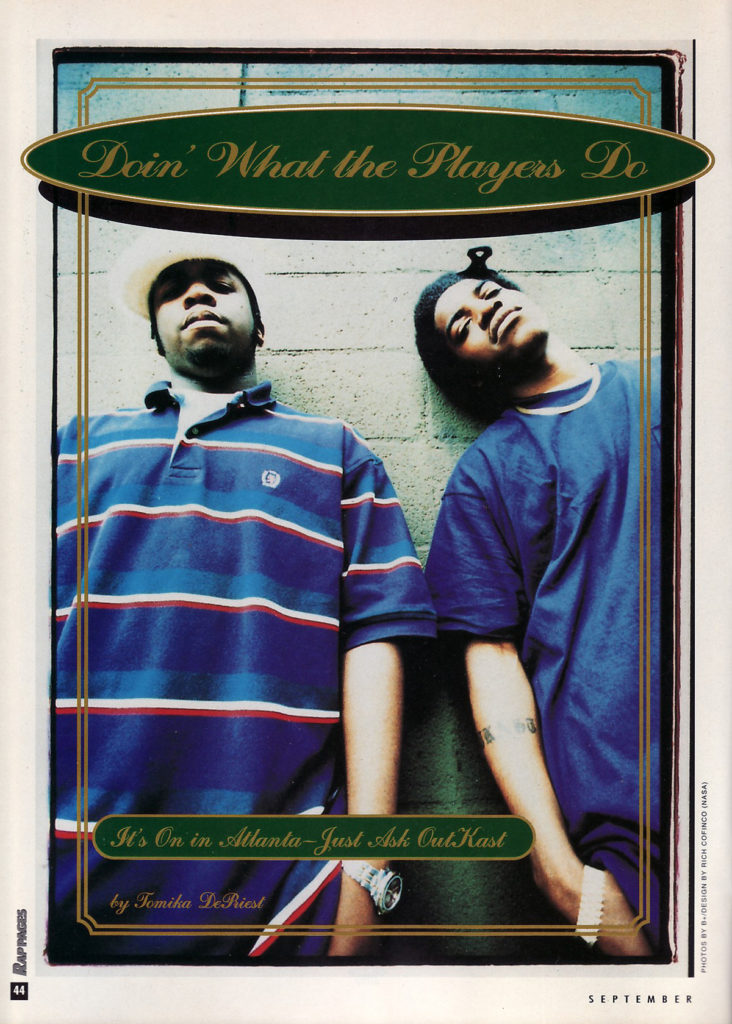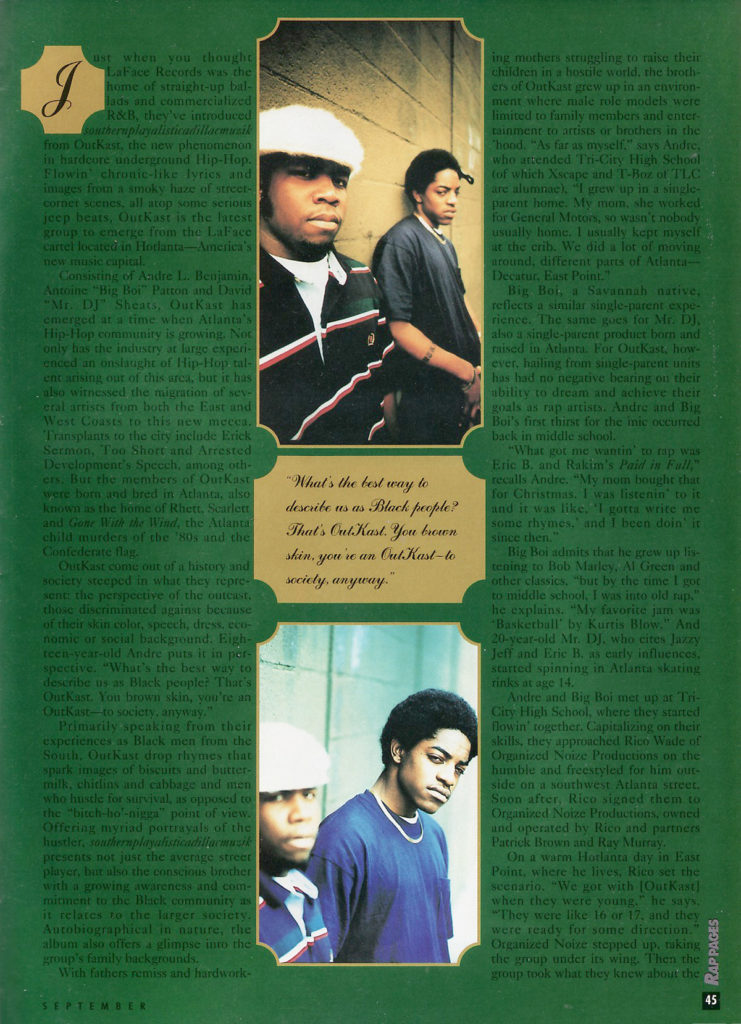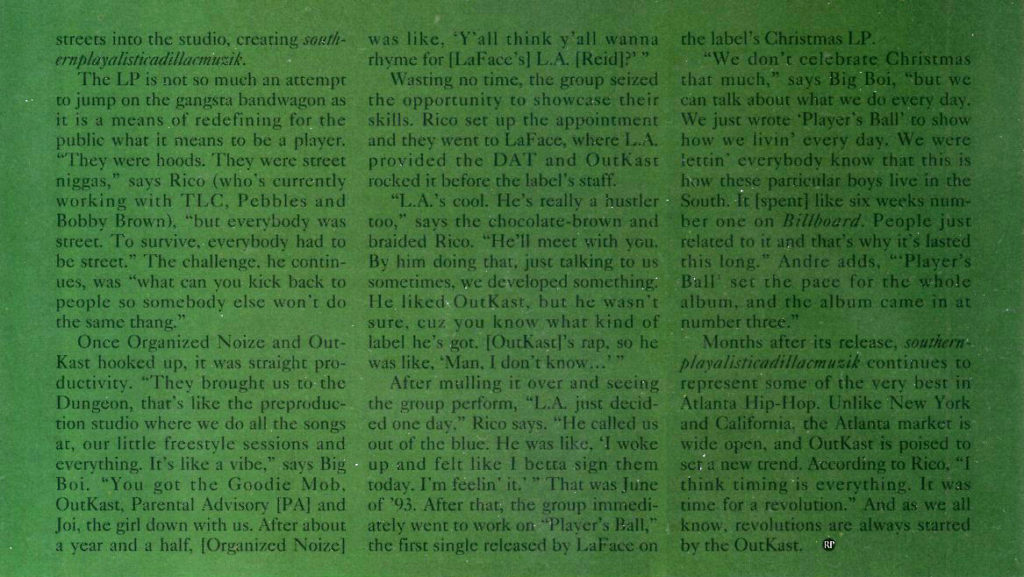 Published by Larry Flynt, the founder of Hustler, RapPages was a serious, good-looking and well-respected monthly magazine out of L.A. The feature was written by Tomika DePriest, who carefully notes that the album "presents not just the average street player, but also the conscious brother." DePriest, a native of Detroit, is currently Executive Director of Communications at Spelman College, of which she is an alumna.
In October, Arista, LaFace's parent label, placed an ad for OutKast's third single, "Git Up, Git Out" (the track highlighted several months earlier by James Bernard in his review for Entertainment Weekly) in the trade papers servicing black radio.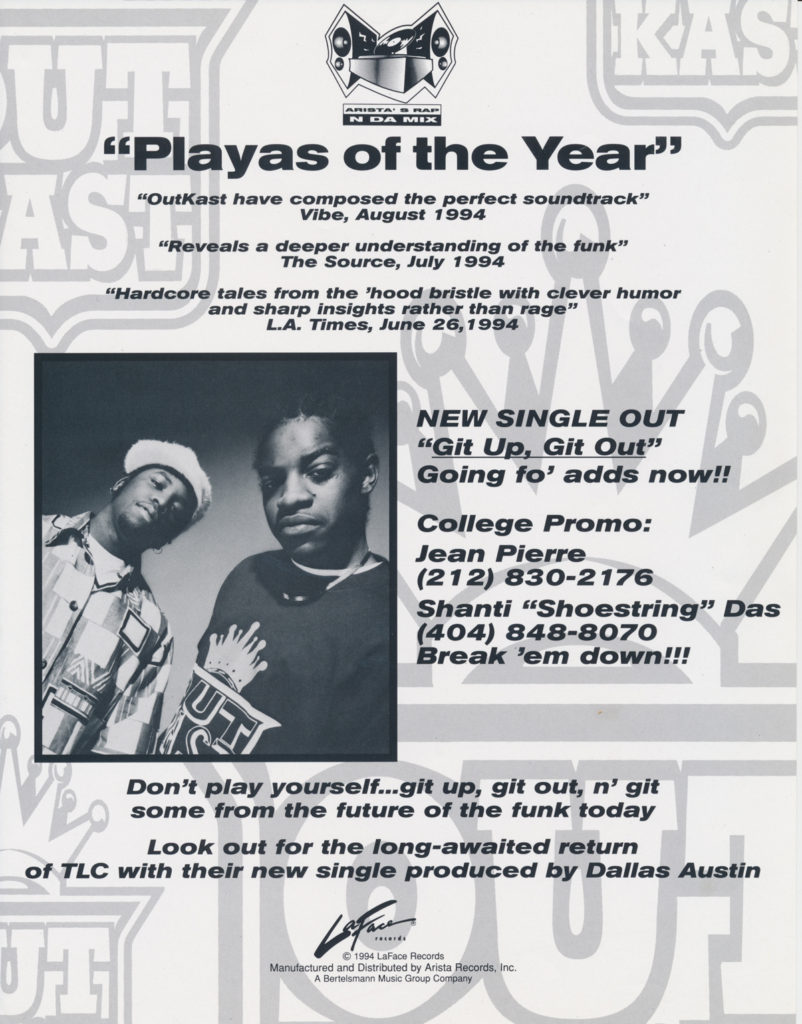 At the bottom of the page, they also squeezed in a line of hype about a then-forthcoming album by TLC. (A conscientious parent wants to make sure all they chillun get some love.)
Finally, sometime in 1995, Underground Soundz published an interview with OutKast.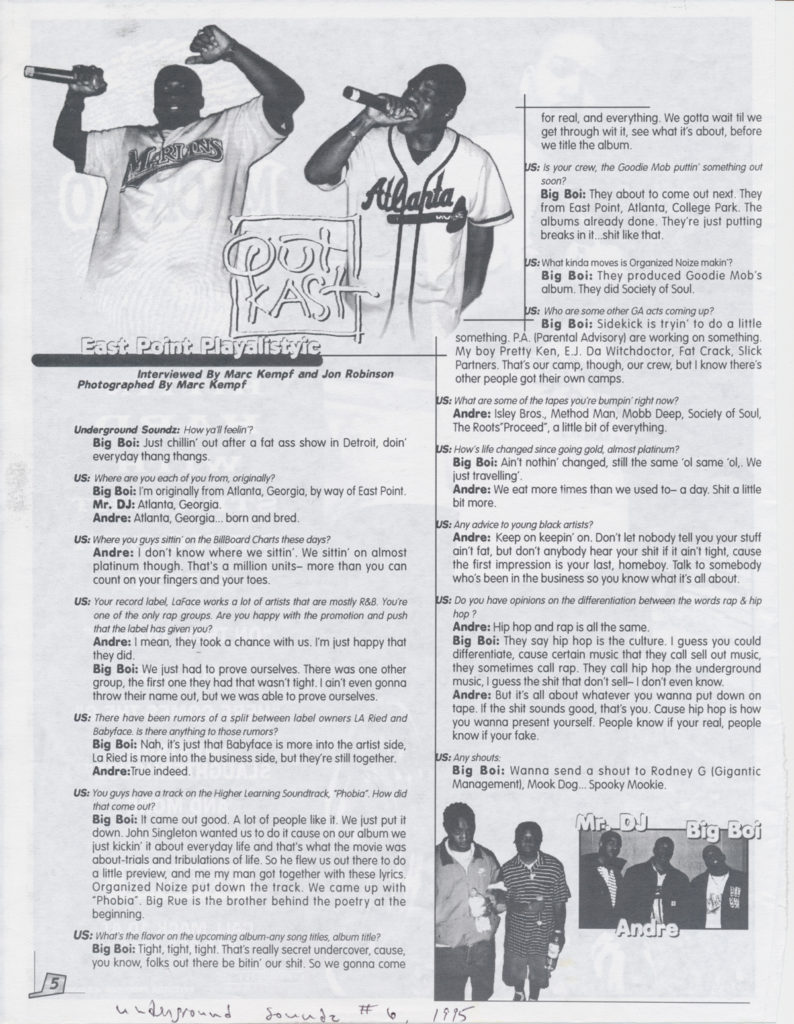 The mag was founded in Detroit circa 1992 by Marc Kempf, who wanted to shine a light on the local hip-hop scene. A couple years later, Kempf was instrumental in helping Eminem to find a record deal.
We'll leave the summing up to Mr. Russell Simmons, who had something to say about OutKast and Southernplayalistic in his 2008 book, "Do You! 12 Laws to Access the Power in You to Achieve Happiness and Success."
"At the time, I didn't understand their music—it sounds so different from what I was
used to that I foolishly … claim[ed] that they 'weren't hip-hop.' The same way people
didn't understand 'Sucker MCs' a decade earlier, I didn't understand that instead of operating outside of hip-hop, OutKast was actually expanding hip-hop. They were
offering one of the most honest expressions, an expression so honest that it went completely over my head at first."
Exactly. Live and learn.
Bonus Beat: Below is a shot of OutKast in Miami visiting DJ EFN and his Crazy Hood crew at his pirate radio show circa 1996.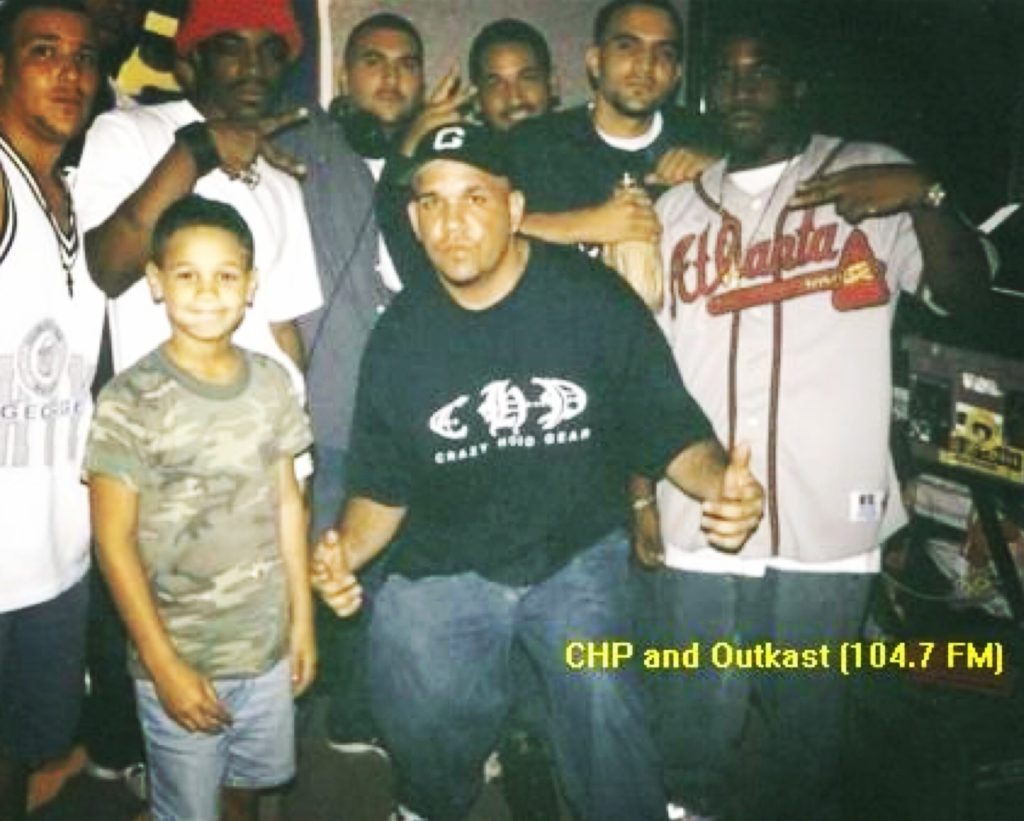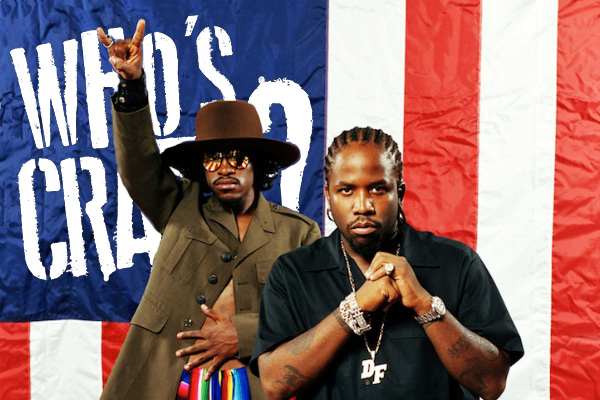 Editor's Note: This is the eleventh in a series of Bill's "Diggin' In The Files" posts on CrazyHood.com. Known to his co-conspirators as Ill Badler, Bill was the founding director of publicity for Def Jam Recordings and Rush Artist Management, a position he held from 1984 through 1990, during which time he promoted the careers of hip-hop legends Run-DMC, the Beastie Boys, Public Enemy, LL Cool J, 3rd Bass, Slick Rick, and many others.
Most images courtesy of Adler Hip-Hop Archive. Thanks for research assistance to Ben Ortiz of Cornell University's Hip-Hop Collection, and Chairman Jefferson Mao, who opened up ego trip's exhaustive library of rap magazines. The black & white shot at the top of this column is the first press photo of OutKast.