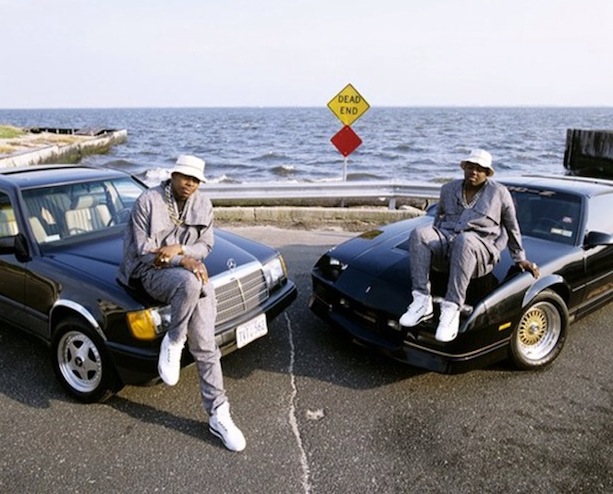 Our subject for today is EPMD, the immortal two-man crew who were nicely characterized as "rap music's own version of Starsky & Hutch" on the hiphopelements.com website in 2003.
Like a lot of hip-hop's hall of famers – including Run-DMC, Slick Rick, and Eric B & Rakim — EPMD debuted with a smash hit single on an independent label.  Written, rapped, and paid for by Erick Sermon (the "E" in EPMD) and Parrish Smith (the "P" in EPMD), the single was "It's My Thing/You're a Customer."  It was released in the summer of 1987 on the Fresh label, a subsidiary of Sleeping Bag – Mr. Will Socolov, founder and proprietor.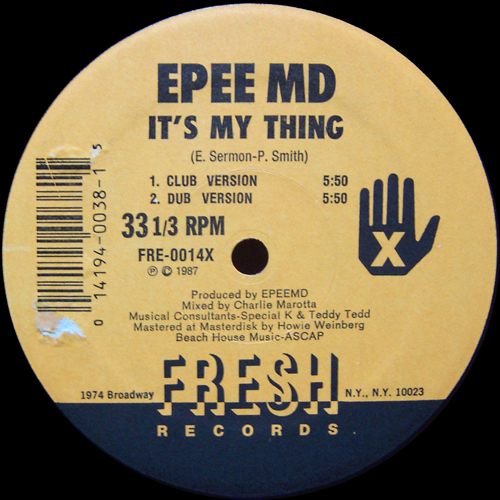 The duo had met as junior high school classmates in Brentwood, Long Island. When their record dropped, the crew became the latest example of the eastward expansion of hip-hop, from the Bronx (Bambaataa and Flash) to Queens (Run-DMC and LL Cool J) to Hempstead (Public Enemy) and, later, to Amityville (De La Soul).
Parrish got his first taste of the music business when he was still known as DJ Eazzy P. He was hooked up then with a crew called the Rock Squad, formed by his older brother, Smitty D. The Rock Squad put out a single called "Facts of Life" on the Tommy Boy label in 1985.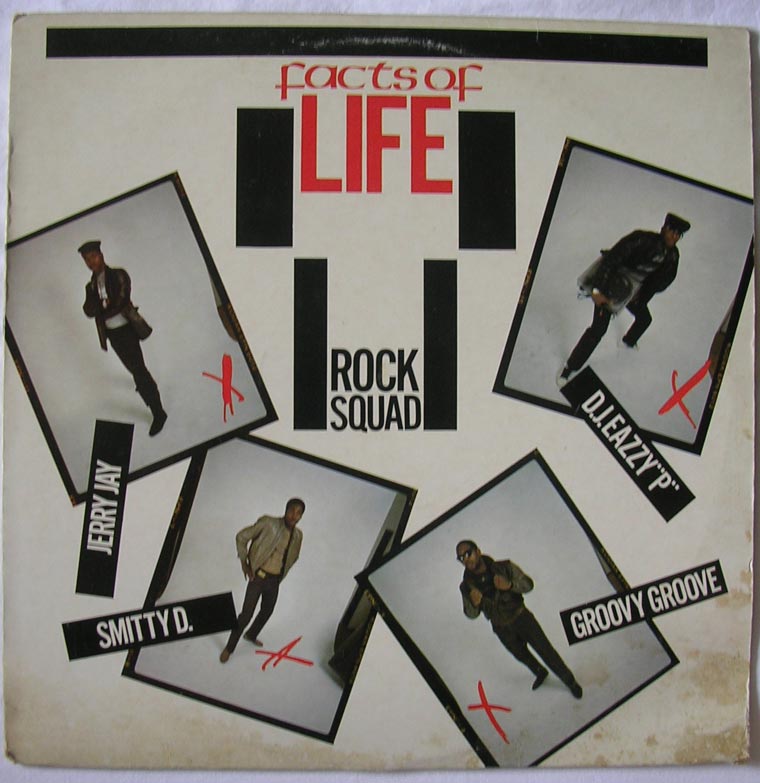 By '87, Parrish was a student at Southern Connecticut State University, as well as a member of its football team. He also had a gig on the side at Entenmann's Bakery, which allowed him to earn money for tuition. At the crucial moment, Parrish used that money to pay for the record he and Erick wanted to make.
It turned out to be a smart investment. Clearly, the pair were ready to go. Their formula was to marry their deadpan boasts to the sampled rhythms of a wide range of funk and classic rock. "It's My Thing" sampled Marva Whitney, Syl Johnson, Mountain, and Pink Floyd.
That track, in turn, has been sampled at least 44 times over the years, by acts as various as Gang Starr, Jodeci, Shaquille O'Neal, INXS, LL Cool J, and the Roots featuring Mos Def.  "You're a Customer," which baldly sampled Steve Miller's "Fly Like an Eagle" and Kool & the Gang's "Jungle Boogie," has had an even bigger impact. It's been sampled at least 80 times, by acts including Faith Evans, Eazy E, 3rd Bass, MC Eiht, Snoop Dogg, King Tee, and Vanilla Ice.  Asked once about the crew's preference for slow tempos, Erick said, "It's because I've got a slight lisp, and when I talk fast people can't understand what I'm sayin'."
I'd love to be able to show you reviews of that first single.  Instead, I must confess that I don't have any.  Suffice it to say, that the record's deep funk, in combination with the rappers's  "steadfastly passionless rhymes of menace" (as Harry Allen later put it) electrified the folks who were paying attention at the time.  This avant-garde cohort included Run of Run-DMC, who persuaded his older brother to sign a management contract with EPMD, and who made sure to add EPMD to the bill of the Run's House tour the following summer.
The earliest clip from my files on EPMD was published in the May 30, 1988 issue of The R&B Report, a weekly "tipsheet" that tracked a given record's play, market-by-market, on radio stations devoted to black music.

It's a brief review of "You Gots to Chill," EPMD's second single (and the first for which they made a music video), on the eve of the start of the Run's House tour. At the bottom of the review, it lists ten radio stations that had added the record to their playlist, five from the eastern half of the country, five from the western half – a very accurate indicator of EPMD's immediate coast-to-coast appeal.
Next comes a one-two punch from the aforementioned Mr. Allen. A great critic, as well as a close friend and co-conspirator of the Public Enemy posse from their joint school days at Long Island's Adelphi University, Harry wrote his first piece about EPMD for the June 6, 1988 edition of The City Sun, a black weekly based in Brooklyn.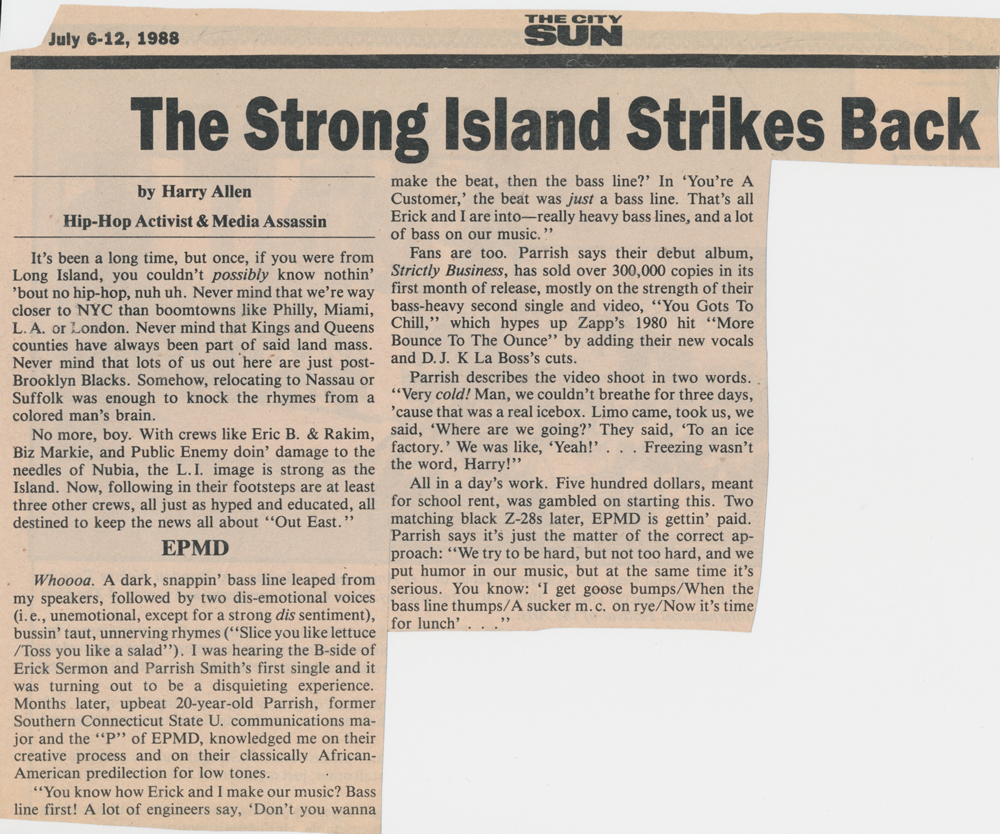 In fact, it's a review of three albums, all by groups from Long Island, starting with EPMD's Strictly Business, which was then newly released. (Forgive me, but I can't recall the names of the other two groups).  The self-described Media Assassin, a Long Islander like EPMD, Harry was proud as hell to claim these groups for hip-hop in the face of a persistent skepticism from city-based hiphoppers towards any rap that emerged from the suburbs.  "…Never mind that lots of us out here are just post-Brooklyn Blacks," he writes.  "Somehow, relocating to Nassau or Suffolk was enough to knock the rhymes from a colored man's brain."
Just two weeks later, Harry's second piece on EPMD was published in Village Voice.  Focused solely on EPMD this time, Harry turns a negative into a positive by describing the pleasures uniquely available to suburbanites.  "Long Island's EPMD [are] "beach boys for B-Boys," [providing] just the right push into summer."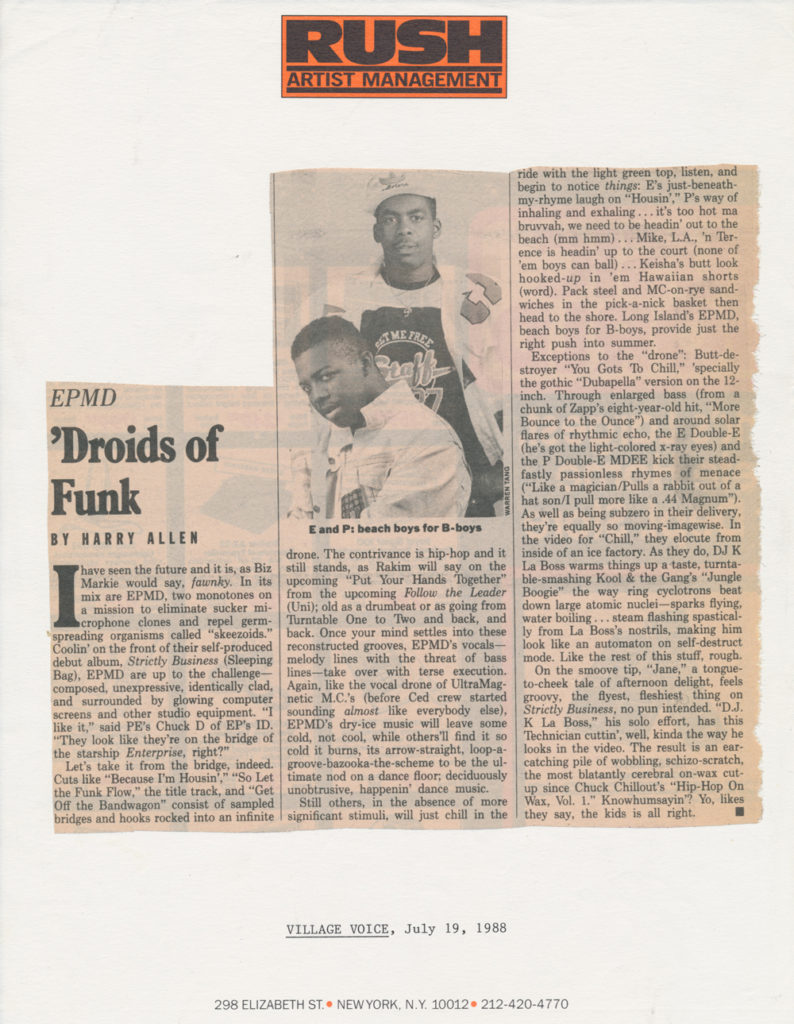 As mentioned, EPMD spent that whole summer on the Run's House tour, part of a powerhouse lineup that included Public Enemy, Jazzy Jeff & the Fresh Prince, Stetsasonic, and, at the top of the bill, Run-DMC.  The tour played Long Island's Nassau Coliseum on the evening of Friday, August 12.  Four days later, the show was warmly reviewed in Newsday, Long Island's daily newspaper, by pop music writer Wayne Robins, a well-respected rock critic who held down the Newsday gig from 1975 through 1995.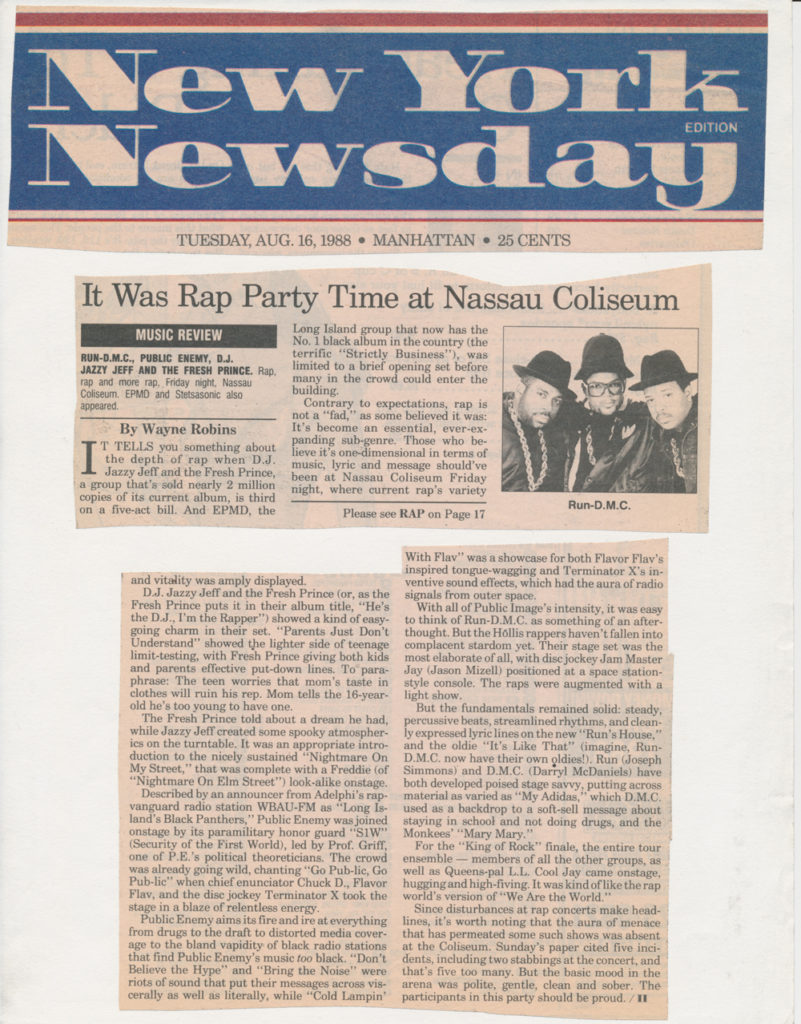 By then, Strictly Business had rocketed to number one on Billboard's Top Black Albums chart.  Robins makes sure to note that EPMD were Long Islanders.
Not ten days later, New York's Daily News published a feature story about EPMD by music critic David Hinckley.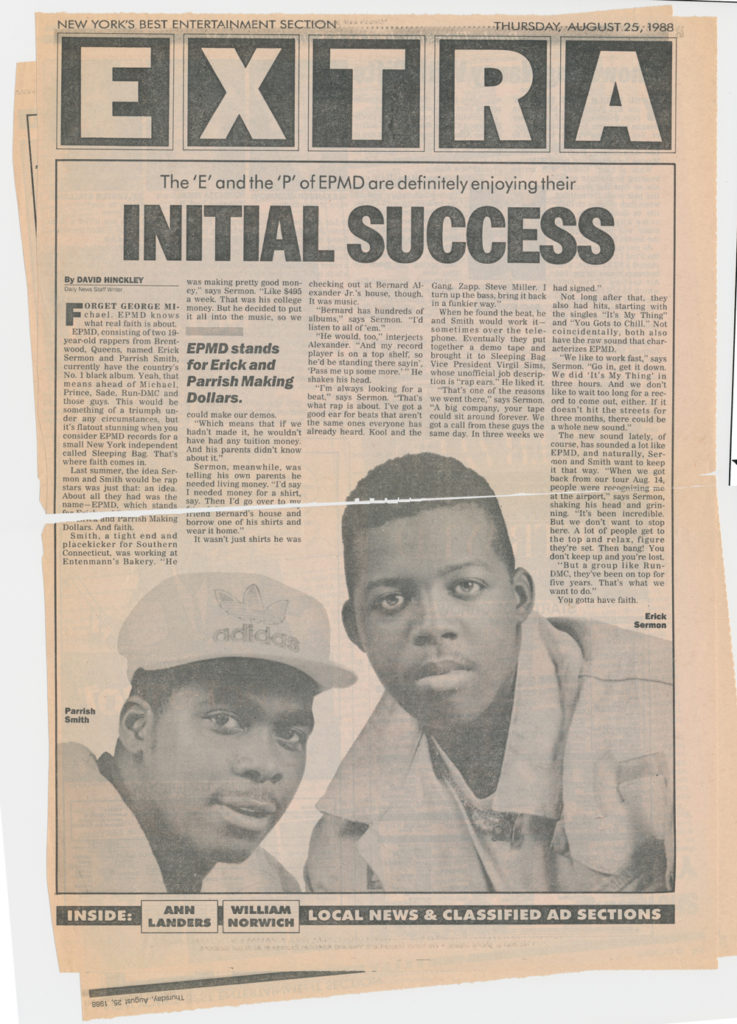 Hinckley had been paying due attention to rap from the moment he began reviewing for the News – the city's largest circulation newspaper — in 1983.  He remained in the job until 1990, when he became the paper's critic-at-large.  Since 2008 he has been their television critic.  Here he enumerates the giants casually shouldered aside by these rap newjacks on their way to the top of the black charts:  "Michael [Jackson], Prince, Sade, Run-DMC."  He also provides the story that I repeat at the top of this piece, about Parrish funding "It's My Thing" with money from his job at Entenmann's.
On August 30, Robert Christgau, "the dean of America's rock critics," reviewed Strictly Business for the Village Voice.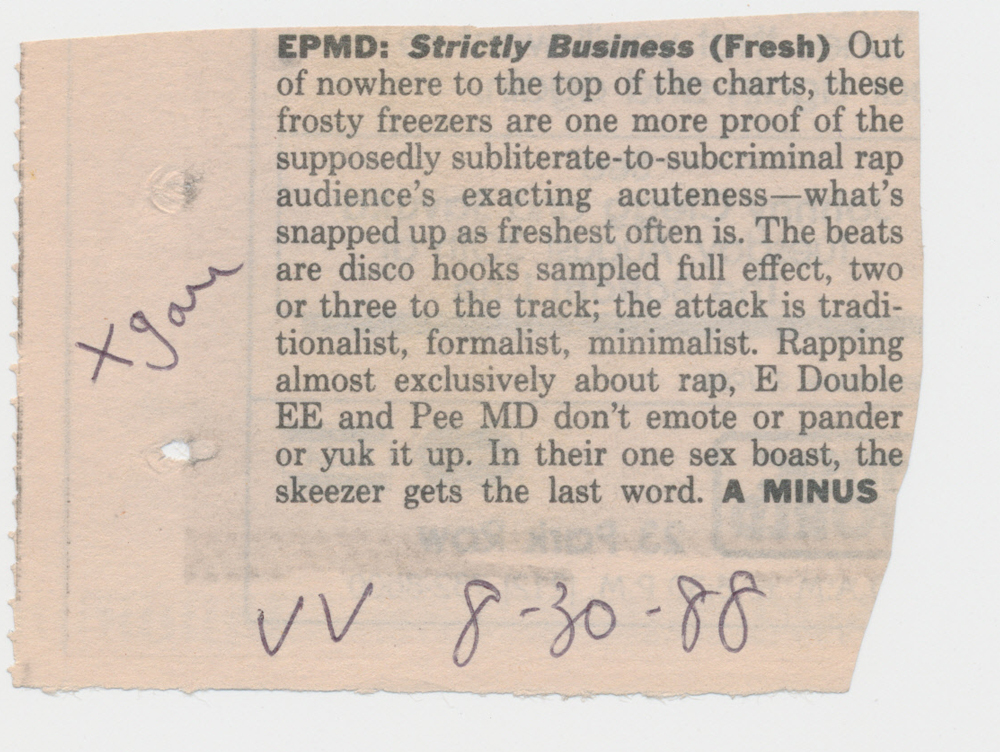 Christgau was a fixture at the Voice from 1969 through 2006 (except for a brief stint – '72 – '74 — at Newsday.)  It was during his tenure as the legendary weekly's music editor that he assembled a great crew of writers and shepherded a ton of very smart rap criticism into print.
Here, in one of his monthly Consumer Guides, he alludes to the low esteem in which hip-hop's core audience was held by more mainstream folks…and then explodes it:  "These frosty freezers are one more proof of the supposedly subliterate-to-subcriminal rap audience's exacting acuteness — what's snapped up as freshest often is."
The list of "Jet's Top 20 Albums" for the week of September 19, 1988, makes the same point, in a different context, that Hinckley had made several weeks earlier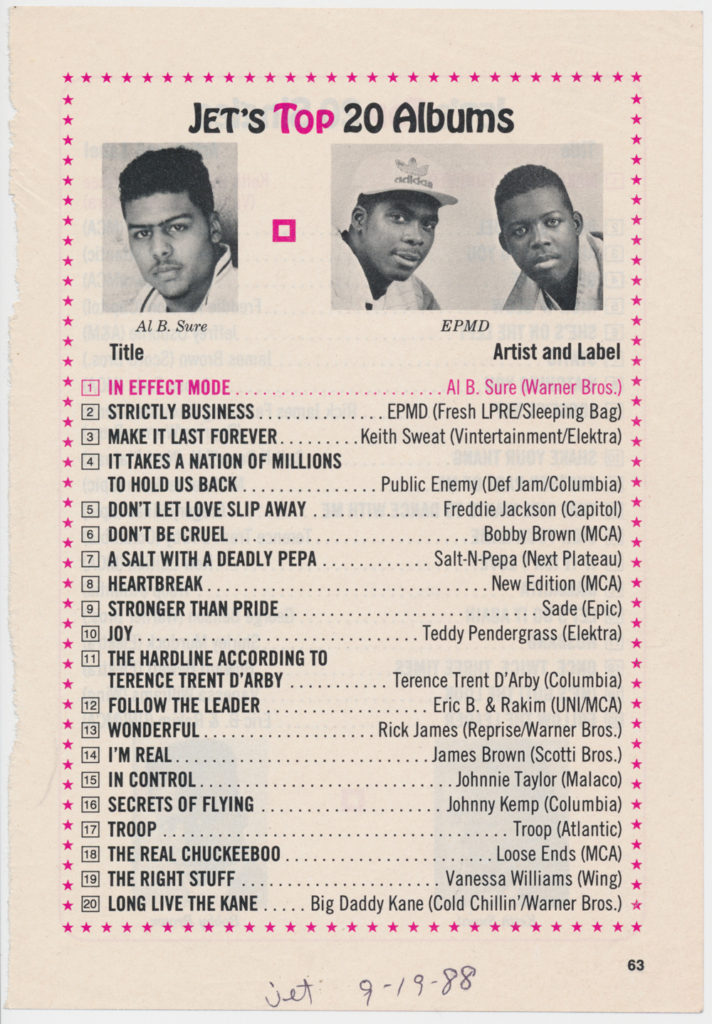 On Jet's chart, the famous older performers being surpassed by EPMD include Freddie Jackson, Bobby Brown, Sade, Teddy Pendergrass, Rick James, Johnny Taylor, and James Brown.
Finally, we come to the one-and-only Bonz Malone, who wrote a piece for the December 1988 issue of Spin magazine.  Two-thirds of it is an interview with EPMD.  The remaining third is a review of EPMD's performance on the Run's House show at Nassau Coliseum the previous August.

Bonz has always been prized more as a stylist than a critic, and that style is on full display here.  Who else could transmute "Nassau Coliseum" into "blasstauf col?"  Just for fun, try to track down his wild and wooly mid-'90s homage to Frank Sinatra for Vibe – or a copy of "Hip-Hop Immortals," a beautiful coffee table book for which Bonz wrote the text, published in 2002.
Bonus Beat: The image below was the cover of Sleeping Bag's Christmas card for 1988. The photo at the top of this column graced the cover of EPMD's second album, Unfinished Business, in 1989. It was shot by Janette Beckman.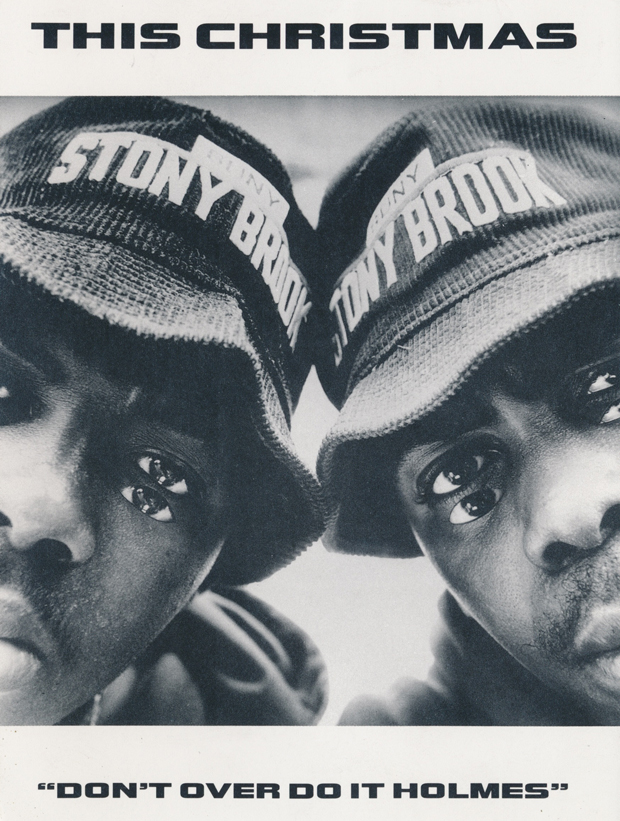 Editor's Note: This is the tenth in a series of Bill's "Diggin' In The Files" posts on CrazyHood.com. Known to his co-conspirators as Ill Badler, Bill was the founding director of publicity for Def Jam Recordings and Rush Artist Management, a position he held from 1984 through 1990, during which time he promoted the careers of hip-hop legends Run-DMC, the Beastie Boys, Public Enemy, LL Cool J, 3rd Bass, Slick Rick, and many others.
All images courtesy of Adler Hip-Hop Archive. Thanks for research assistance to Ben Ortiz of Cornell University's Hip-Hop Collection.