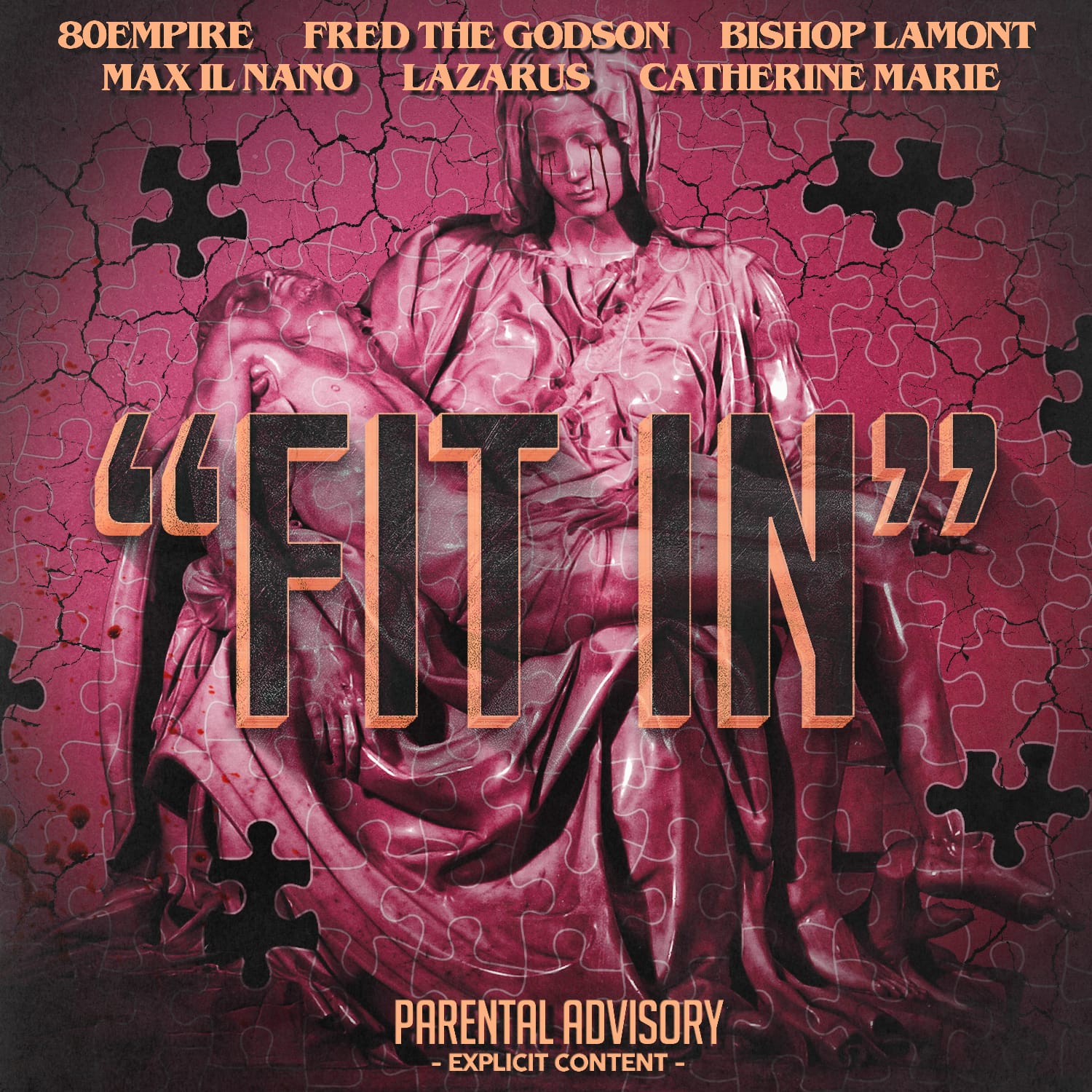 CrazyHood.com recently sat down with super talented producers 80 Empire on their new song "Fit In" featuring Bishop Lamont, Max IL Nano, Lazarus, Catherine Marie and the late great Fred The Godson. 
80 Empire provides a cinematic sound to "Fit In" as the featured artists paint pictures with their lyrics. Recently released, the music video for the song chronicles the internal struggle of an amateur female boxer and her obsession to compete and 'fit in'. 80 Empire talks about how the music video was created. 
"Covid 19 has paralyzed us globally, creating a variety of obstacles to navigate through. Unfortunately Covid tragically took Fred the Godson's life way too soon." 80 Empire continues; "We still wanted to put out the song and got Fred's management's blessing. Because of Fred's passing, and the fact that the Canadian/American borders were closed, we thought of doing everything with cell phone footage. Then our director had the idea of highlighting a boxer. My bro and I then said let's make it a female boxer!" Mixed in with everyone's cell footage Fatty (director of "Fit In") literally made all the different footage 'fit in' the music video, for real. 
"We really strive for both our music and visuals to give the listener and viewer an authentic cinematic experience." –

80 Empire
"Fit In, is another single off our Legacy project, because we're singer songwriter producers we really want to break it down like A&Rs did it back in the day" 80 Empire continues; "Selecting a musical army of the very best MC's like the Avengers or Justice League. With 'Fit In' specifically we wanted to get artists from different States and even Countries. Creatively, we really enjoy seeing different worlds and artists collaborate and collide. We love people and connecting people together."
The ultra talented Fred The Godson's appearance on "Fit In" arrives posthumously as his untimely death shocked the hip-hop community. Fred and 80 Empire only knew each other for a short time before Freds passing, yet the chemistry between the artist and producers can be heard clearly on the record. "During quarantine we sparked a friendship over having kids and joking about quarantine date nights with the wives." 80 Empire continues; "We chopped it up about putting together an amazing project… He said over the phone that we are some of the dopest producers he's worked with, so with this album it's time to let the world really hear our sound… The week he went into the hospital we were supposed to start our joint EP…." 
80 Empire continues; "It was extremely hard to hear and see him in the hospital and then tragically lose his life. We couldn't believe it and felt sick to our stomachs." 
Fred's family has created a foundation to carry on Fred's Legacy here is the website for those who want to donate. fredthegodsonfoundation.org
With more music on the way 80 Empire has already released lots of music in 2020 itself. "We've been workin' overtime, we have another single with B.G. Knoccout called Dedicated then more singles and some visuals off our Legacy project with some more great features" 80 Empire continues; "We're working on some more music with our brother Swifty Mcvay and working on a Part 2 to our joint album out now, and some more music with Cee Knowledge from Digable Planets, Kxng Crooked and a few surprises along the way."
80 Empire's upcoming album LEGACY will be out before the end of the year. Until then check out more releases from 80 Empire below!