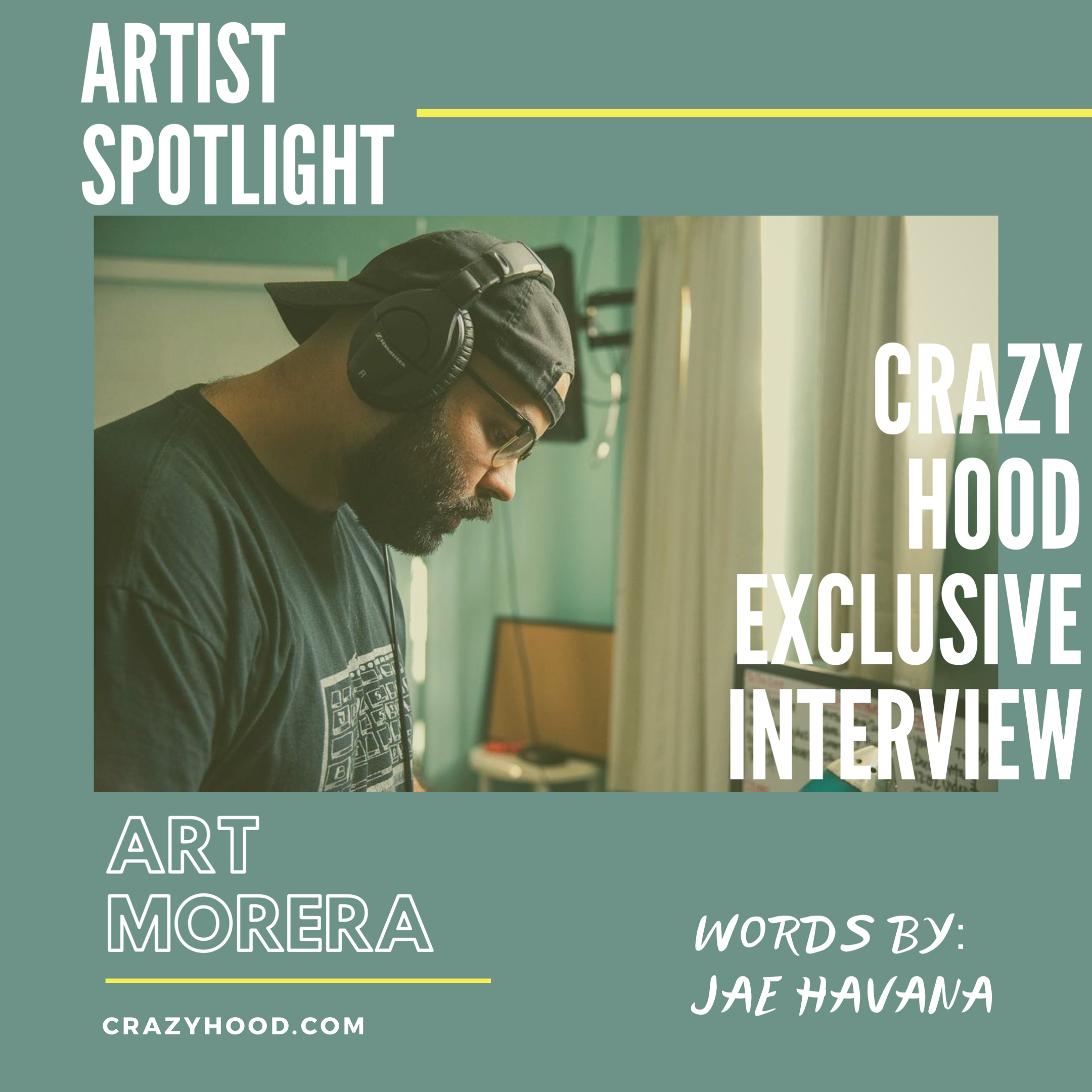 Miami, FL – Born and raised in Miami, Florida. Art Morera is the first of his primary family to be born in America. Born to Cuban parents, Art and his family moved around a lot in Miami, spending some years in South Miami, Kendall, West Hialeah, Little Havana, Little Haiti.
As a 90's kid he was into illustrations and comics, however it was music that really captured his attention. "Music was always in my household." Art explains; "The radio was almost always on, whether it was Power 96 or Y100 or Radio Mambi (710am) for news and historical information about Cuba. So I mostly grew up around pop American music, classic rock and old Cuban songs. I didn't get into hip-hop until later on because of my cousins and friends in the neighborhoods."
Having such a broad musical palette at a young age, allowed Art to have an open ear to all genres of music. In fact it was the music of the legendary group The Beatles who he first connected with. Art says; "In middle school I picked up learning the guitar as an elective class and my teacher was adamant about her students learning Beatles music while learning the instrument."
Aside from being heavily inspired by The Beatles, Art also found inspiration in the music of Queen, Lynyrd Skynyrd, and Led Zeppelin – specifically their hit song "Stairway to Heaven" Art states; "I played that song a million times because it's probably the greatest song ever written." However, it was Queen's "Bohemian Rhapsody" that became a favorite song of his. Influenced by the magic of film and music it was a scene in the classic film Wayne's World where the characters Wayne and Garth (played by actors Mike Myers and Dana Carvey) jammed out to the song. Art expresses; "It was a classic scene!"
Movie soundtracks fulfilled his young love for music. The 90's Disney Soundtracks were a musical bridge that captured the love of cinema and music for both children and adults. "The 90's Disney soundtracks were real big, every movie had those songs every kid learned and sang along to." Art says.
"It's kind of interesting thinking about it now because aside from making hip hop music, I also blend music that kind of resonates with the listener's inner child in a nostalgic way." – Art Morera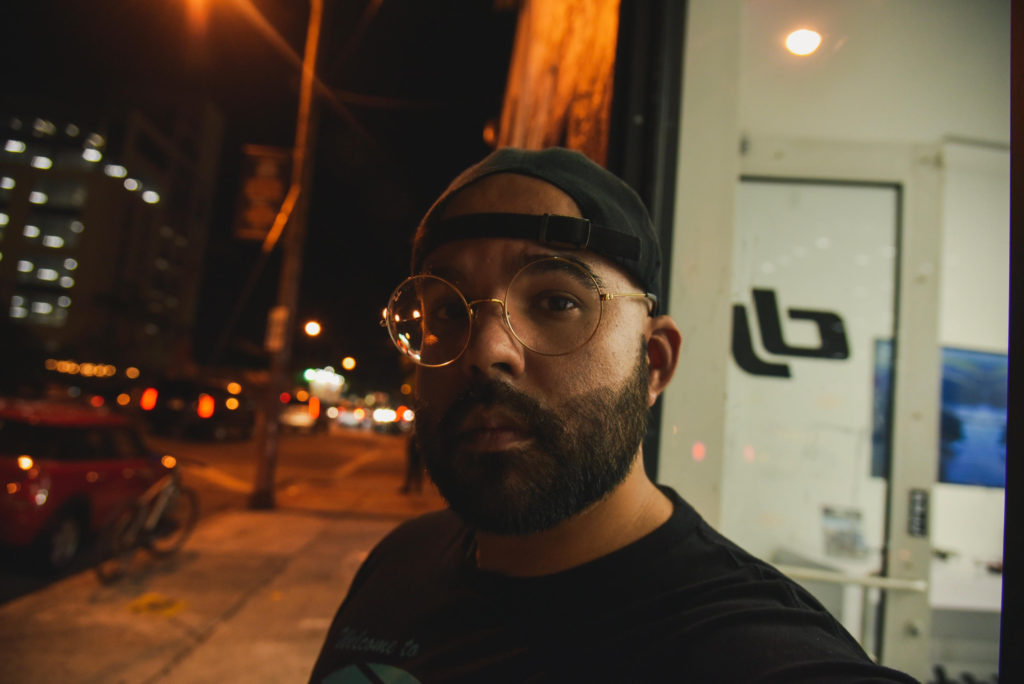 The 90's also introduced Art to the genre of music he would eventually start to create; Hip-Hop. "I initially developed fandom of all the popular artists in the late 90's, mainly 2Pac, Big Pun and Bone Thugs N Harmony, and Eminem… but once I got into high school, other homies put me onto the more underground artists like Atmosphere and Aesop Rock and Sage Francis, Copywrite, Cannibal Ox, all those guys." Art explains; "they seemed less compromised and polished and that seemed to have resonated with me more so I gravitated towards their music as a result."
"Rapping" wasn't something Art just picked up, actually it was a fitting transition as he went from writing poetry to songwriting, and by the time he delved into making rap music, all the kids in his West Hialeah neighborhood were all about it. "All the kids in my neighborhood were consumers of rap music so it was all around me." Art explains. "The girls liked the rappers too, so that was an incentive to picking up rapping as a skill."
During this time as he searched to find himself as an artist, Art Morera (real name Arthur Morera) first started rapping under different pseudonyms. He spent a few years trying to find a name that best represented him. After several failed name attempts, Arthur Morera finally realized his Mother had been calling him by his rap name since day one.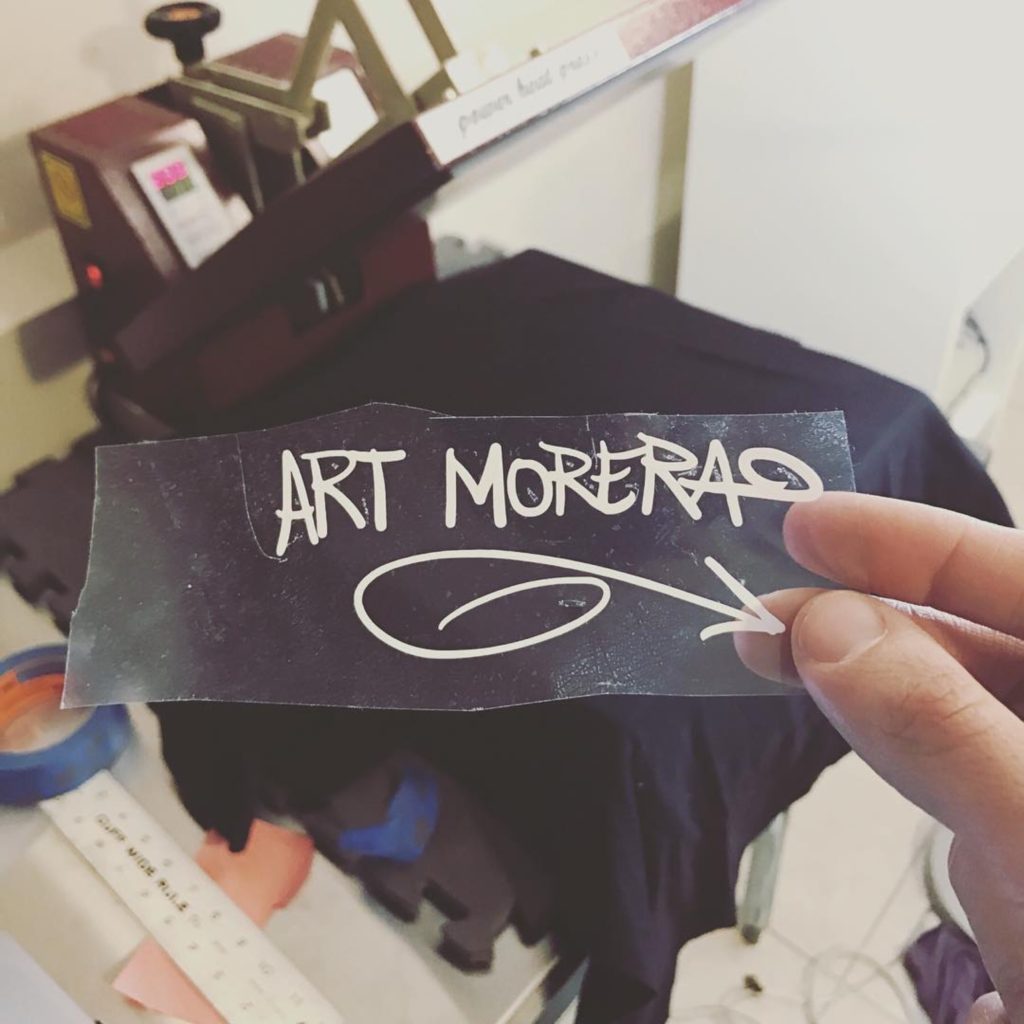 "It occurred to me one day that my Mom always called me 'Art' so I just ran with my real name. Implying that I'm just being myself (real name, no gimmicks) as well as that my music itself, is art." – Art Morera
Present day; it's been years since the young artist picked up the name 'Art' Morera as his stage name. Since then he's held true to his artistic motto "Life story told through rap." And has released several albums living by his motto including AFTERGLOW, 12:02, TRANSIT CITY, GOOD GRIEF, just to name a few.
BUENA GENTE is Art Morera's latest project. It's an 11-track album consisting of only collaborations with some of Miami's best upcoming artists from all corners of the city. With each song created following the episode recording of his guest on the "Media Noche Podcast with Art Morera". Media Noche is a podcast discussing various topics some of which became the subject matter of the songs on this project. Grab yourselves a cafecito, a Media Noche sandwich, and ride to this project to hear what Miami really has to say! Here's my interview with Art Morera.
"BUENA GENTE" An Interview with ART MORERA
Jae Havana: Thank you for taking the time to do this interview, we really appreciate it. Let's dive into it. How would you describe your style of rapping?
Art Morera: My style of rapping is mainly autobiographical, vivid and detailed. When you listen to a song of mine, initially you'll see the picture I painted in it, before you recognize the musicality in my melodies and harmonies and finally the intricate rhyme structures littered throughout each verse. I've gone through phases where I went from focused on punch lines with shock value since I used to join MC battles, to displaying intricate wordplay for the sake of showing I knew how to rhyme words at an advanced level, to then just pouring out what's in my heart at the time and how my day went… I prefer now writing the story of my life… I'd rather the listener connect with me as a human being than just a wordsmith.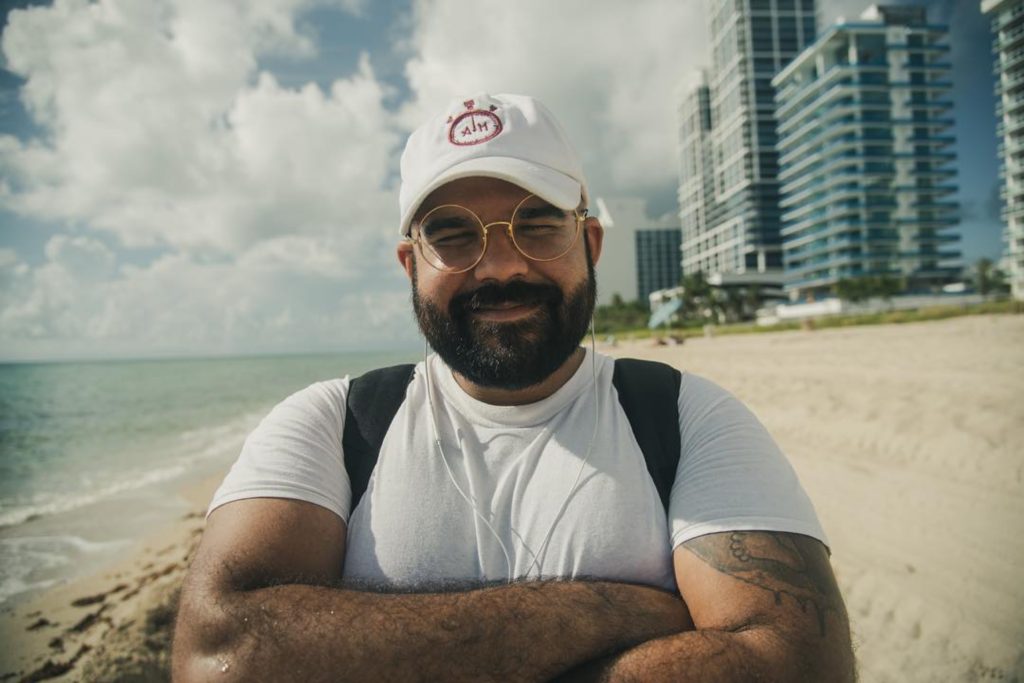 What's your creative process like?
Man, I go live life, then I make a beat, then I go eat something or run errands while listening to the beat in my headphones and writing lyrics in my head as I go about my day. Then I go back to the studio and record the song… then I listen to the song a bunch of times, get stuck in traffic and hate life for 45 minutes, then get back home and tweak the song a bit, then vault it away and do it all again.
"Buena Gente" isn't your first project. Has that creative process changed from your first project to your new one? If so, explain.
The only part of my creative process that has changed from my first project to now is that back then I worked with producers and had friends in the studio while I created music… now I make my own beats and am in solitude while I patiently make the music. I've grown to prefer no outside influence tampering with the music I make… over time I've realized that other people in the studio are more distractions and guests I find myself babysitting, instead of just being uninterrupted and focused on working.
What's your writing process like?
I literally pace around the side walk or the grocery store or drive around doing stuff while I hum the lyrics as I write them in my head, looking like a crazy guy talking to himself. Sometimes the hardest part of writing a verse is the first line, but once I find the first line everything else just flows out without struggle. I don't over think the lyrics anymore, the ten thousand hours I dedicated to formulating rhymes and metaphors have resulted in seamless journal entries as rap verses.
If you had the opportunity to work with one artist or group, who would it be & why?
I really want to work with Atmosphere, either them or Eminem. However if I were to work with Eminem, it wouldn't be a song displaying rap skills on a technical side, it would be a more personal record… same with Atmosphere. Create music that the audience can really connect to.
If you had the opportunity to work with one producer, who would it be & why?
Man, that's a tough one. Although I'm a huge fan of Kanye West and guys like El-P and Madlib, I think I'd be most excited to work with Alchemist, or Mike Shinoda. Mind you, if ANY of those guys wanted me on a record, I'd be totally stoked because these guys are like super heroes to me. I'd probably be too nervous at first and write some horrible verse and make awkward conversation. We'd probably have to kick it for a while before that nervousness goes away. I always wanted to work with the legends I look up to. Alchemist is the man.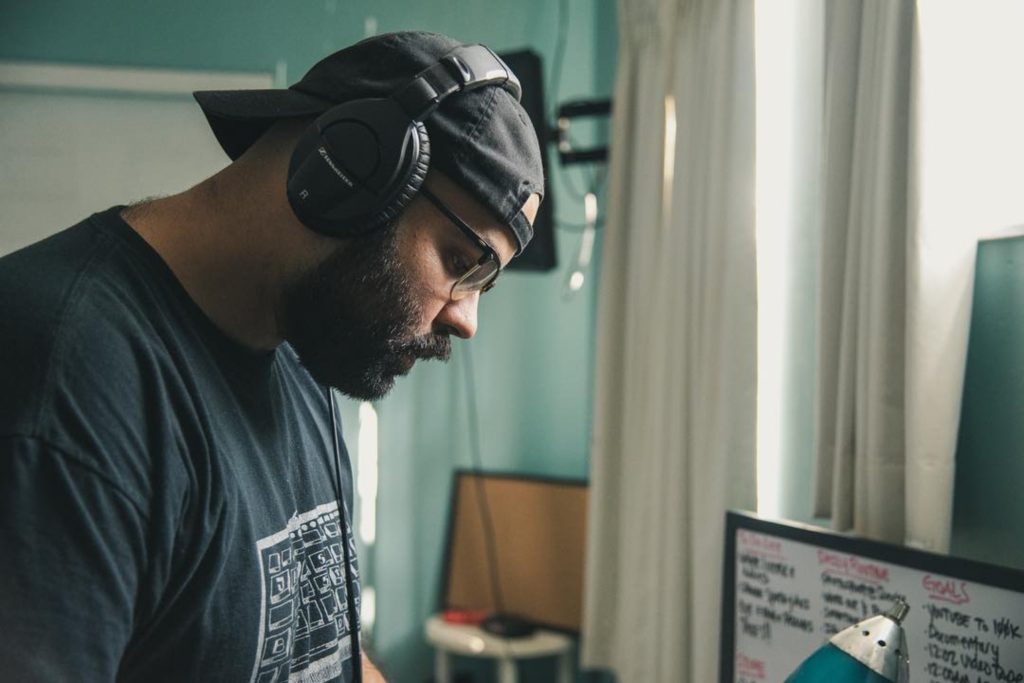 You named your album BUENA GENTE. Why? Describe the meaning behind the title and how it associates with each track?
I named the album BUENA GENTE because there's a lot of artists that are real good people, making positive music even if it consists of stories that aren't their proudest moments… we're just fighting the good fight, you know? Also if your Abuela says your friend is Buena Gente, then they're cool.
You feature DJ EFN among others on the Introduction track of your album. I feel that your intro helps set the tone for your album. Explain the concept of the Introduction.
DJ EFN is a Miami legend. His introduction was real important for the project because he played a fundamental role in Miami hip-hop in the 90's and 2000's and even today! Everyone's sound bites after EFN are all from their episodes of my podcast 'Media Noche Podcast'. What each person says in the intro either directly or indirectly has to do with what the song they're on is about.
PAINT featuring Serum – How did you connect with Serum for this song? Describe the concept of the song.
I've known Serum since the early 2000's when Miami had all the hip-hop jams and the battle scene was heavy. He's a true hip-hop head, he paints aside from making music. The song "Paint" is kind of about graffiti but it's deeper than that. Go get your name out there, go make a mark, go paint the town red man. Go paint!
Take the Cash feat Orion – One of my favorite songs on album. How did you connect with Orion for this song? Describe the storyline of this song.
Orion is dope man. Mind you, after each podcast we sat and went through some beats and everyone picked the beat they liked and we wrote to it. When we linked to record the song, he had the idea for the chorus of riding on a Monaco kind of like in an old barren wasteland setting and I was like man imagine if we find Q-Tip's wallet from El Segundo, but take the money in it for gas or Taco Bell or something.
AFTA featuring Caveman Bless – First of all shout out to Caveman Bless for one of the most dopest names in Hip Hop. What did he bring to the song? What does AFTA stand for? And describe the concept of the song.
AFTA stands for 'All For The Art' and yes Caveman Bless is an awesome name. He's just a real hopeful dude, man. Again, Buena Gente. We're just fighting the good fight. The concept of the song is never giving up on your dreams, making the sacrifice and overcoming whatever is holding you and your family down while never compromising your integrity. You can tell when the music is manufactured and when it's pure.
It'll Happen featuring Thousand – How did the both of you connect? What's the meaning behind the song?
Whenever I link up with Thousand, we talk hip hop and balancing working overnight shifts and music since we both currently have the same hours at our jobs. So it made sense to write a song focused on being patient while our aspirations become a reality.
In my verse I tell a short story of when I was traveling across the country. One time in Salt Lake City, I took a break from driving and parked on the roof of a parking garage to skateboard around for a while, and when I went back to my car, there was a praying mantis on the driver side door just looking at me. That was the first time I ever saw one too, and it tripped me out so I left it alone and went to buy pizza at a nearby pizza shop like a block away. The guy that worked behind the counter had a Strange Music medallion on his necklace and I mentioned to him that I knew the guys in ¡Mayday! but omitted that I too made music, even though I was confident that he'd end up liking what he heard. I just bought the pizza and skated away. When it's meant to happen it'll happen.
How It Go featuring Spaz – Describe the concept of the song and how did the idea of the song come about?
So "How It Go" is dope because Spaz's verse, is him reflecting on how his younger self couldn't handle things as well as he can now, dealing with fake friends and just circumstances. And my verse is about leaving your home to see if you can find success elsewhere but with no real foundation, just taking a chance. So it's 2 different perspectives of self-development. Life is highs and lows, that's just life. Deal with it however it makes sense for you to do so long as you come out on top.
And On featuring ER305 – Describe the concept of the song. How did you connect with ER305?
So, "And On" is a special one to me because it touches on standing up for your roots even if it's not the popular or appealing thing to do. I mention in my verse how Jay Z made the shirt with Che Guevara's face popular, and since then it's become this thing where people think Che is some awesome revolutionary but really he's a communist and mass murderer. This truth is lost in popular culture because Jay Z is such an influential figure, and although I'm a huge fan of Jay Z, I had to speak on it.
ER305's verse is dope man, low key he's put in a lot of work representing his neighborhood and staying focused on his come up. That work ethic and tunnel vision is admirable because I know a lot of talented people that gave up on their dreams because they lacked the foresight to keep going. We're both artists sticking to our guns in this music.
What's your favorite song on the album? And Why?
My favorite song on the album… damn… I don't know man, the whole tape slaps. It's still brand-new so the dust hasn't settled yet, I'm still bumping the tape front to back, I feel like the sequencing of the songs compliments each song's vibe. I love "Bloody Moon" with Mogly, "Ready" with my long time friend and peer Ramon Revere, "Haaa!" with Cloud 9 is a great song to break the tension that was building up on the first half of the album, and "What's Next" with Ghost The Young Sage rides on that momentum too. I don't know man, there's something on there for every type of listener really. We all snapped on it.
Describe what your Media Noche Podcast is about? Can we see more episodes coming soon?
Media Noche Podcast is mainly about Miami hip-hop, I started the podcast to bring light to the hip-hop scene I grew up on and where everyone is at today. Obviously we branch out and discuss various topics as well.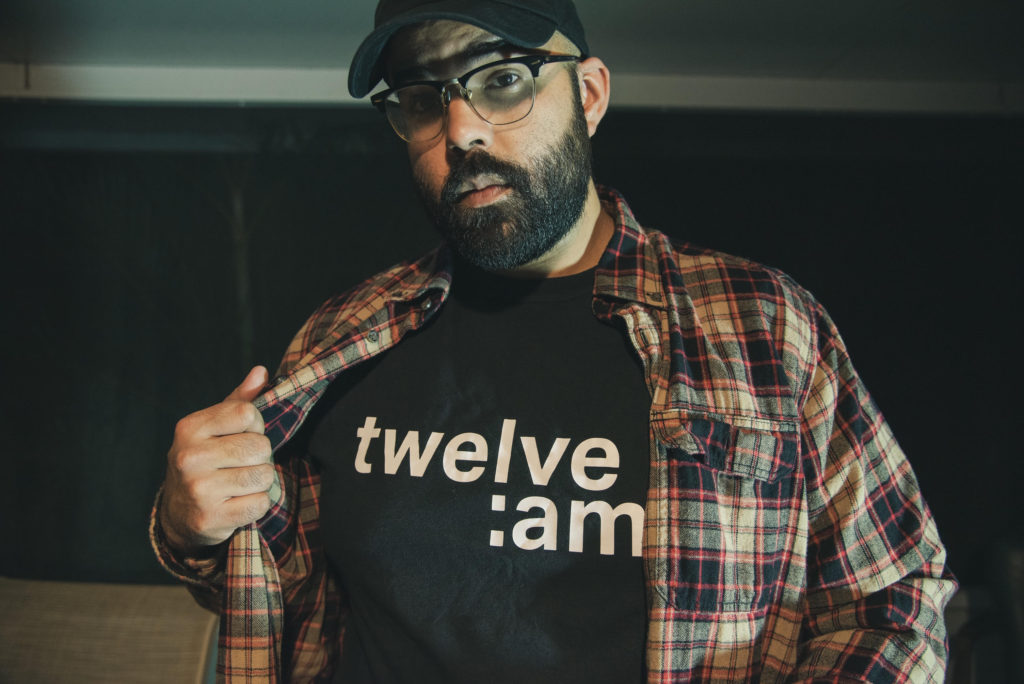 Where do you see yourself in 5 years?
Not on probation, touring my music, hopefully with an 8 pack and a catamaran in Shelter Cove, CA. legally growing some insanely fire cannabis and finally finishing reading The Hobbit.
What's next for Art Morera?
I'm just focused on finishing my probation, and re-watching The Office again while wrapping up these songs I have in the vault. Also I'd like to successfully land a kick flip; I've been working on it for like 5 years on and off.
How can people reach out to you?
Say hello if you see me in the street somewhere, or on Instagram – @ArtMorera. Also subscribe to my YouTube channel ( YouTube.com/ArtMorera ) because I put dope content on there and that's also where the podcast is located at. Also check out my SoundCloud page, which includes all my previous releases.
BONUS CONTENT: