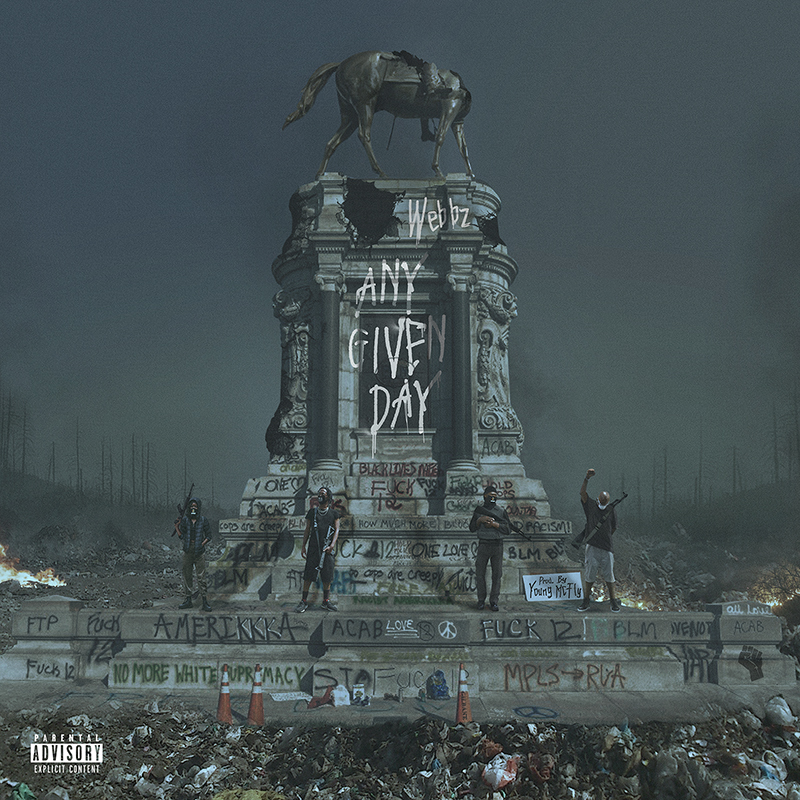 I recently chopped it up with Webbz to get his thoughts and emotions behind his most powerful record to date. "Any Given Day" produced by Young McFly.
"Just watching what's been going between COVID and the racism I wasn't inspired to do any music" Webbz continues; "And then finally I got the urge and wanted to say something and Any Given Day was recorded."
With racism in American being at an all time high Webbz wanted to make sure that this message was loud and clear. From the jump Webbz flexes his lyrical skills with gems like "Americas nightmare, intelligent black male. My paper diversified all thanks to my black scale." 
Incorporated within the song Webbz features a dialogue between Al Pacino's character Tony D'Amato and Jamie Foxx's character Willie Beamen from the movie "Any Given Sunday". In their conversation Tony D'Amato tells Willie Beamen "C'Mon don't play that race card on me kid, 25 years I worked with men of your color." Willie Beamen responds by saying "Maybe it's not racism, maybe it's place-ism. A brother has to know his place, right boss?"
This is an important line in the movie as Willie Beamen (Jamie Foxx) brings to light the underlying racism in sports. 
"Racism doesn't take a break it's an everyday thing in America. It's in every fabric of the United States you can hear Willie Beamen talking about it on the skit. Even in sports theres racism. Everything." – Webbz
After the skit, Webbz continues his powerful message with lyrics like "Still pursuing my passion, anxiety nervous. Paranoia depression that's just scratching the surface. Through trial and error my nigga you'll find your purpose. Stop chasing IG likes and buying bitches purses".
To put things into perspective check out the single's artwork. Webbz describes it as "It signifies rebellion… Where America could be heading because people are fed up."
Any Given Day by Webbz available everywhere.